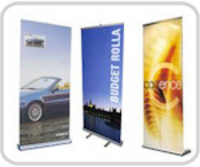 (PRWeb UK) July 6, 2010
A new website that provides a comprehensive range of quality retail display equipment and point of sale (POS) graphics at discount prices has been launched at http://www.discountdisplays-express.co.uk to help UK retailers increase traffic and sales.
The new site features thousands of in-stock display products and offers next-day delivery throughout the UK.
Discount Displays Express is a one-stop solution for UK retailers, providing a wide range of retail display products as well as full in-house large format design and printing capabilities that provide quick turnaround, low prices and premium quality for printing banners, posters, sale banners, stickers, window and floor graphics, site hoardings and more.
Retail display products include banner stands, display cabinets, outdoor displays, brochure holders, plasma stands, notice boards, poster frames, lightbox displays, LED signs, café barriers, crowd control barriers, exhibition furniture, lights and accessories.
All products are available for direct purchase online at discountdisplays-express.co.uk. The Discount Displays Express site has user-friendly search and compare functionality that makes choosing the right display simple.
The company also offers a custom in-house design service, or customers can furnish their own artwork from instructions found in the Help section of the website.
For more information, visit the website at http://www.discountdisplays-express.co.uk or call on 0844 800 1020.
About Discount Displays Express
Discount Displays Express is the UK's leading online supplier of retail POS display equipment and large format graphics. Based in Croydon, Surrey on the outskirts of London, Discount Displays Express supplies all of the United Kingdom (England, Wales, Scotland, Ireland, Northern Ireland) and all its cities, including Bath, Birmingham, Bradford, Brighton & Hove, Bristol, Carlisle, Cambridge, Canterbury, Chester, Chichester, Coventry, Derby, Durham, Exeter, Gloucester, Hereford, Kingston-upon-Hull, Lancaster, Leeds, Leicester, Lichfield, Lincoln, Liverpool, London, Manchester, Newcastle-upon-Tyne, Norwich, Nottingham, Oxford, Peterborough, Plymouth, Portsmouth, Preston, Ripon, Salford, Salisbury, Sheffield, Southampton, St Albans, Stoke-on-Trent, Sunderland, Truro, Wakefield, Wells, Westminster, Winchester, Wolverhampton, Worcester and York.
###