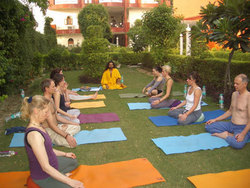 We want to help people, both in India and in the west...
(PRWEB) July 7, 2010
Ayurvedic detoxification, Yoga for stress management, Panchakarma for cleansing the body, all these eastern methods and treatments are getting more and more popular in the western world and the Shree Bindu Sewa Sansthan Ashram in Vrindavan, North India, combines them all in order to serve their cause: helping poor children through food and education. Participation in any of their Ayurveda and Yoga retreats supports the children charity projects.
"We want to help people, both in India and in the west," says Swami Balendu who founded the charitable trust and Ashram Shree Bindu Sewa Sansthan. "With our children charity projects, poor children can go to school without fees and they get a warm lunch daily, so that they have the prospect of a better future. And we help people from the west to have a better life, too. You can join our Ayurveda and Yoga retreats in India, improve your lifestyle and live a happier and healthier life!"
The Ashram in India offers several retreats throughout the year to fulfill this purpose:
An Ayurveda and Yoga retreat of one to four weeks in which each participant receives daily Ayurvedic massages with oil, Panchakarma treatments for detoxification and an individualized diet according to his or her body type. Weekly Yoga workshops and spiritual healing sessions take place to support the process of relaxing, cleaning and strengthening.
A four-week course of advanced training for teachers and long-time practitioners. Participants can learn variations of yoga poses, deepen their experience and extend their knowledge, not only about the postures and their benefits but also about the original yoga philosophy.
Available throughout the year this is the newest of offers at the Ashram. Here, too, one can choose to stay from one up to four weeks and learn more about the Ayurvedic kitchen, the use of spices and how they balance the doshas. In daily cooking classes you get experience in preparing different Ayurvedic recipes so that you are able to cook your own wholesome Ayurvedic meals after your stay in India.
Yashendu Goswami, yoga teacher and nutrition counselor at the Shree Bindu Sewa Sansthan Ashram explains: "The benefits of Yoga and Ayurveda are known, you release tension and stress, you purify your body from toxins, you strengthen your muscles and become flexible, you get to know which nutrition is good for yourself, in short, you just feel much better. And all of this while you are on a relaxing holiday in India and also doing something good for poor children."
'Do something good for yourself and others at the same time' is the idea behind all these retreat offers. During the offered retreats you can also see what exactly the charitable trust is doing with the profits: on the Ashram grounds there is also a school where poor children learn fully free of cost. Their parents cannot afford any school fees and are happy that the children also receive a warm lunch.
The invitation of Swami Balendu is always there: 'Make your next holiday in India! We will be happy to welcome you at our Ashram!'
###