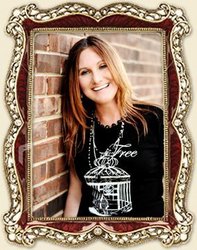 I have a strong passion to give young girls and women of all ages a way to positively brand themselves.
Wilmington, NC (PRWEB) July 8, 2010
What happens when a designer and marketing exec gets so tired of seeing tweens, teens and women wearing t-shirts with negative messages emblazoned on the front? If you are Melissa Slaven-Warren, owner and Founder of Meliciously Yours, you quit your day job and design a t-shirt line of your own that offers a positive alternative celebrating the fun, positive, and independent characteristics of women ages 5 to 105. With the June roll out of their first six designs entitled Free, Beauty & Brains, Old Soul, Lady, Trustworthy, and Sensuous, each Meliciously Yours design is hand illustrated and each shirt comes with a story – and a history lesson about the empowerment of women over the ages. Prices range from $34.99 to $39.99 and are available at http://www.melicioustees.com.
"I have a strong passion to give young girls and women of all ages a way to positively brand themselves. I created this line after seeing a twelve year old girl wearing a t-shirt that had 'I'm High Maintenance' written across the front," explains Ms. Warren. "I decided then and there that it was time to offer an alternative to those narcissistic, self- centered and often unempowering messages that are displayed on t-shirts today but at the same time I wanted to make sure that it was trendy, and appealing to fashion-conscious women. A product they could wear proudly and embrace their true personality."
Ms. Slaven-Warren plans to introduce a new t-shirt every couple of months and also has made a commitment that her t-shirt suppliers adhere to a strict social responsibility such as no forced labor or child labor practices, no discrimination and health and safety guidelines. She has also integrated eco-friendly alternatives into her line such as an organic crew which is manufactured with 100% organic cotton. For more information on Meliciously Yours clothing line, please contact Melissa Slaven-Warren at 910-520-2917 or info(at)melicioustees(dot)com or visit http://www.melicioustees.com.
About Meliciously Yours
Meliciously Yours is a privately held company based in Wilmington, NC and launched in 2010. Its mission is to offer unique apparel designs influenced by the manners, opulence, timeless beauty, charm, and structured femininity synonymous with the Victorian era, but translate into modern meaningful and positive messages for women. The company was founded by Melissa Slaven-Warren, a marketing executive and writer with a passion for fashion and desire to offer beautiful, intelligent women of all ages with positive messages on apparel. http://www.melicioustees.com.
# # #