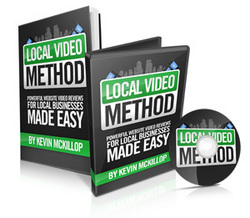 Even if they look impressive, these sites could be invisible to search engines, and the owners cannot understand why their businesses aren't being enhanced by their websites
(PRWEB) July 6, 2010
There can be no argument that many people now use the internet as their first point of call when searching for products and services - a phenomenon that will increase dramatically every year.
One of the most lucrative internet marketing platforms is that of consulting to businesses who (a) have a poor internet presence, or (b) have no online presence at all. But the creator of Local Video Method, Canadian Kevin McKillop, discovered that internet marketers need to overcome some very real hurdles in order to secure a client:
Ineffectual websites
Most businesses with established websites invested heavily in their creation - especially if they were built some years ago, when site building costs were high.
"Even if they look impressive, these sites could be invisible to search engines, and the owners cannot understand why their businesses aren't being enhanced by their websites" says McKillop. "And very often don't want to spend any more money on something they don't really understand."
No internet presence
Traditional 'bricks and mortar' businesses are sometimes the hardest people to grasp the fact that need to be online. Explaining in words can be confounding, but by using video, McKillop has found the ideal medium to communicate services to this very internet-needy group.
Local Video Method Removes The Obstacles
Following considerable research, testing and implementation, Kevin McKillop now released an innovative website video review system - the creation of an actual video review of prospects' websites. He discovered that an impressive 60% of the people to whom he sends the videos pick up the phone to contact him, or send an email. He says they 'get' how a consultant can help them - immediately - through the power of video.
By following the Local Video Method, consultants are shown how to give clients well researched business-specific information and demonstrate actual statistics for their prospects' sites, all through the medium of video. Because each video is personalized to the client's business, they quickly warm to the message.
Prospective clients are immediately engaged in the video, and impressed with the consultant's demonstrated knowledge of their business - before even speaking with them. McKillop discovered that when clients who have viewed his videos call, they had already warmed to him, felt they 'knew' him a little, had been pre-sold on his services and the close was then a formality.
But the big breakthrough came in the fine-tuning of the system. The Local Video Method shows how to easily script and create 10 videos a day, and have them sent to your prospects before the day is over.
A New Era In Landing New Clients
The days of cold-calling prospects are long-gone - consumers today are savvy to the same-old sales-speak. In order to create an impression that will convert a prospect into a customer, new, targeted approaches are needed. Kevin McKillop's Local Video Method has provided the answer for consultants.
About Local Video Method
Local Video Method is a system to create videos quickly, and is the brainchild of Canadian, Kevin McKillop. It is a step-by-step guide for internet marketing consultants on how to collect relevant data for prospective clients' websites and presenting it in an innovative way that demonstrates how the consultant will improve site results.
Comprising a complete video walk through of Local Video Method, from start to finish, it is also accompanied by a PDF download guide and example video scripts for purchasers to use when they create their own videos. Templates and instructions that are compatible with both Mac and Windows platforms are provided, along with Keynote and PowerPoint templates for video presentations.
McKillop has designed Local Video Method to be easily implemented by to his clients and has created a private membership area for simple access templates, tutorials and downloads.
###