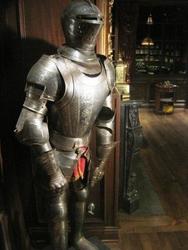 When you consider the monetary value of each of the pieces in the lot, starting all the bids at just a dollar equals an unprecedented opportunity for bargain hunters and serious collectors alike to walk away with some amazing deals."
Santa Barbara, CA (PRWEB) July 6, 2010
Nestled comfortably between the foothills of the Santa Ynez Mountains and the city of Santa Barbara, California,lays the community of Montecito. It's one of the most beautiful and affluent communities in the country, yet even here the devastating effects of the current economic crisis take their toll. Despite the resident's proclivity for silver spoons and golden parachutes, this township's once-mighty affluence has failed to insulate at least one of its favorite families from dire economic tragedy.
"It's disheartening to discover that the economy is so bad it can destroy even multimillion-dollar estates", says Drew Donnen, founder of Seized Assets Auctioneers, the company conducting the auction. Case in point: On July 11, 2010, the entire contents of a $15 million Montecito estate will be sold in an unprecedented online auction. "Unfortunately, nothing can be saved," Mr. Donen added, "that's why every bid is starting at just $1."
Among the 1,000+ items made available through this unique auction are many rare and important works of art and tapestries, exquisite jewelry and antique furnishingsand many one-of-a-kind items that may never be seen again.
Mr. Donen referred to the event as a "tremendous auction with some really exquisite pieces." Most prominent among the many items featured at http://www.santabarbaraestateauction.com are a 17th-century Venetian Portal estimated at over $45,000,a 60"x 42" landscape in oil by Peruvian artist Pablo Muñoz valued at a minimum of $8,000, and a full suit of Austrian armor, c. 1850, appraising for at least $5,000. Mr. Donen added, "When you consider the monetary value of each of the pieces in the lot, starting all the bids at just a dollar equals an unprecedented opportunity for bargain hunters and serious collectors alike to walk away with some amazing deals."
Though the house and property themselves are not included in the offering, the auction is nonetheless brimming with opulent jewelry for both ladies and gentlemen, luxurious antique home furnishings and fixtures as well as highly sought after collectible items such as coins, sports memorabilia and vintage toys. There are several sets of sterling silver services, flatware and cutlery, antique crystal chandeliers, as well as many statues, vessels and figurines cast in bronze or carved in natural stone.
The auction begins at 9 AM PST on July 11, 2010 and lasts until all items are auctioned off. Interested parties are encouraged to preview the showcase found at http://www.santabarbaraestateauction.com and register for both the auction and pre-bidding.
###