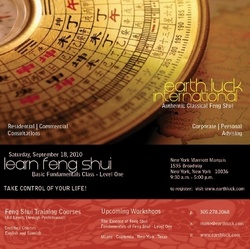 If you are not open to make changes in your life, you are guaranteed to have what you've already got.
Miami, FL (PRWEB) July 8, 2010
Classical Authentic Feng Shui activist organization Earthluck International through its CEO Angel de Para, is following through with its commitment of educating and disputing misconceptions about this centuries old Asian science. Although sometimes controversial, Angel de Para's methods of practice backed by extensive experience of over 120 consultations per month and case studies performed by him personally and his team of professional and committed students from all over the world are gathering evidence and documenting proof of the validity of Classican Feng Shui.
Gone are false notions of Feng Shui where you move your furniture around, hang crystals and display superstitious Chinese symbols of wealth and fertility. Feng Shui is a centuries old science which has been working for successful individuals, Executives and Fortune 500 companies all over the world.
After over a decade of hosting Classical Feng Shui Masters, personally teaching and actually being one of the the first to bring authentic Feng Shui as practiced in Asia to the United States, Earth Luck International will now undertake the mission of spreading through the United States, state by state, beginning in the heart of New York City, these precious scientific formulas and century old methods.
Finally New York business owners and residents are being offered the opportunity to incorporate the invaluable knowledge of Classical Feng Shui into their professional as well as personal lives. This course is of special interest to professionals in the fields of architecture, interior design, healthcare and self-healing/development.
Improve your choices by selecting the correct dates with the element of timing.
Improve the success rate of your business and personal decisions by knowing the right time.
Surround yourself with the positive influence of your environment
Use your knowledge of the environment to make things work better for you.
Feng Shui is tangible, Feng Shui is proven, Feng Shui is present. Let's use it to our advantage.
Modern Day Feng Shui Basic Fundamentals Class - September 18, 2010 Marriott Marquis New York City Times Square - One Day Workshop taught by world renown Feng Shui Expert Angel de Para.
###