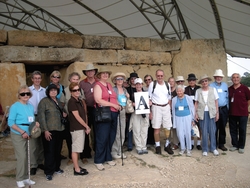 Anyone interested in archeology and history, from stone age culture through World War Two, will love this program. Field trips go to places you could not go on your own.
Sarasota, FL (PRWEB) July 7, 2010
Travelers with an appetite for history will now find it easier to register for in-depth exposure to one of the Mediterranean's best kept secrets: an English-speaking island museum boasting multiple UNESCO World Heritage Sites. With lectures by University experts, excursions and field trips, the program covers Malta's pivotal role in 7,000 long years of human history in the Mediterranean including the Hospitaller Order of the Knights of St. John, the myth of Calypso and Ulysses, World War II, the shipwreck of St. Paul and the archaeological trail of a mysterious culture that created enigmatic curvilinear shrines to an Earth Mother. Accompanied by an archaeologist, participants are permitted to enter megalithic monuments that are the oldest buildings still standing in the world.
Age requirements are lifted for this Road Scholar program: a suitable new identity for participants in "MALTA – Keystone of Mediterranean History", the ten-day course begun as a program for Elderhostel in 1996. Group members arrive, usually with extensive prior travel experience, eager minds and a wealth of world knowledge to share. The highly successful "easy learning" program hubs from a single hotel like a land cruise, includes most meals, museum and site admissions, a day on the smaller island of Gozo, and a full-time escort who resides at the hotel and dines with each group for the duration of the program. Operated by the Florida-based OTS Foundation, the program receives consistently high ratings for its seamless organization and highly qualified presenters. Site visits are greatly enhanced by a series of lectures by area experts.
About The OTS Foundation
A US non-profit, The Old Temples Study Foundation has initiated and supported education, conservation and scientific research related to the extraordinary megalithic culture of the Maltese islands. Described as a "Fertility Cult", the ancient people may have brought from a Levantine homeland ideas and beliefs that survived by virtue of their isolation on Malta for nearly six thousand years. A fully functioning solar calendar in stone and sophisticated engineering techniques suggest a highly advanced society. Architectural evidence in the monuments has most recently prompted a pioneering scientific study of the ancient use of sound and its possible impact on brain activity.
A shortage of qualified people and lack of resources have limited investigation of Malta's megalithic culture. In association with the University of Malta, OTSF has begun development of a Mediterranean Institute of Ancient Civilizations, with the intent of collaborating with scientists and academics in the USA. Additional goals are to provide an environment for the collection and comparison of data from a variety of disciplines to try to better illuminate the picture of prehistory and antiquity in the region, and eventually to share it at the level of the man-in-the-street.
About Elderhostel and Road Scholar
To capture the vitality and excitement of its programs, Elderhostel, the world leader in lifelong learning since 1975, will extend the Road Scholar name to all its educational learning adventures. Exploritas, the program name it launched last October, will no longer be used.
The decision to stop using Exploritas was prompted by the verdict in a trademark infringement lawsuit filed against Elderhostel by a commercial tour company for high school students. Although Elderhostel had scrupulously followed federal law in registering the Exploritas trademark and was legally granted ownership of it by the United States Patent and Trademark Office, its use of the name Exploritas was found to create confusion.
Road Scholar is now the name for the programs developed and offered by Elderhostel, Inc. Our mission is to empower adults to explore the world's places, peoples, cultures and ideas, and in so doing to discover more about themselves. A fellowship of learning and the joy of discovery are the hallmarks of the Road Scholar experience.
Road Scholar will continue to create exciting learning adventures that match expert instructors and enthusiastic participants from diverse backgrounds and foster dynamic interaction, engaging discourse and warm camaraderie with new friends and fellow learners – one of the most important aspects of any Road Scholar experience.
###