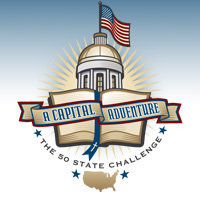 34% of the founding fathers' quotes come directly from the Bible
Sarasota, Florida (PRWEB) July 7, 2010
As Americans prepared to celebrate Independence Day weekend with picnics and fireworks, Rev. Charlie Garrett, an ordained minister and accomplished author from Sarasota, Florida loaded his pickup truck and prepared for an adventure - A Capital Adventure. Rev. Garrett is traveling to all 50 state capitals in the U.S. to promote spiritual revival in the country and bring the nation back to its founding heritage.
From the steps of each state capital building, Rev. Garrett will provide readings about our country's spiritual heritage from national and state documents, as well as conduct and open-air sermon at each stop. He will urge Americans to pray for the spiritual renewal of the country, read their Bibles daily, and to truly call on the Lord for His divine hand to be upon us during these troubled times in our nation.
Taking direction from the founding fathers and their reliance upon the Bible, Charlie also presents an interesting challenge to all Americans during his travels. Regardless of denomination or faith, Rev. Garrett challenges everyone to spend 30 minutes a day reading the Bible. By doing so, he says that it should take approximately 150 days to read the Bible from Genesis to Revelations. Rev. Garrett anticipates this cross-country journey to take between 6 months and one year.
Rev. Garrett has made it easy to follow him on his travels throughout the nation with a tracking map of his journey across the U.S.A., found on his website http://www.ACapitalAdventure.com . He will also provide frequent updates on Facebook and Twitter.
Rev. Garrett was ordained as a Minister of the Gospel in Sarasota, Florida. A Magna Cum Laude graduate of the Southern Evangelical Bible College, Rev. Garrett earned a Bachelor of Arts degree in Bible Studies. He authored the book, "The Mark of a Christian," and currently publishes a daily Bible devotional, which is read by many thousands around the world on-line and via email. He also teaches in-depth weekly Bible exploration classes and faithfully serves as a mission worker in the downtown Sarasota, Florida area.
Prior to God's calling to work in the ministry, Charlie proudly served in the U.S. Air Force for nine years. His overseas assignments included Japan and Malaysia. Part of his time in Malaysia was in a support role for Operation Desert Storm.
http://www.ACapitalAdventure.com
###