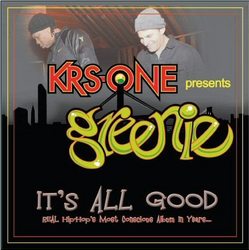 "..Greenie's music is well on its way to being one of 2010's top-rated rap albums not only because of its links with Krs-One--but because Greenie himself offers listeners something that is not only entertaining but also thought-provoking."
Oakland Gardens, NY (PRWEB) July 26, 2010
Beastie Boys... MC Serch... Vanilla Ice.. Cypress Hill... Eminem... Asher Roth.. and a million online entries ad infinitum; White rappers have come to us in all flavors and varieties. It should be no surprise, then, that hip-hop legend Krs-One has just completed his part in the worldwide release of a new album entitled "It's ALL Good" presenting a particularly skilled, entertaining, and UNIQUE emcee from the Caucasian rap farm: "Greenie," a 23+ year Queens, New York rap veteran who just happens to be White, Jewish, and an enormously successful entrepreneur. (not to be confused with Bay Area "Greenie" --a lesser known rapper from several years ago)...
Greenie's music is reportedly well on its way to being one of 2010's top-rated rap albums not only because of its untraditional links with the legendary Krs-One--but because Greenie himself offers listeners something that is not only entertaining but also....thought-provoking. His story starts off semi-typical: Born Andrew Greenstein, Greenie was raised largely by a drug-addicted older sister who attempted suicide regularly before moving out and marrying an abusive crack addict. Until just a few years ago, this new rap star stuttered so badly that he couldn't even spit out his own name when asked! His fairy tale marriage ended 2 years ago when his ex-wife had an affair with an alleged pedophile (Greenie has two young daughters). But Greenie presents his story so differently then the typical "rapper victim" because... having been an underground rapper for nearly 25 years, he proclaims that if his stuttering hadn't been there, he would've gone the regular 9-5 job route instead of pursuing silent Internet entrepreneurialism—a result of his being unable to handle the speaking pressures of job interviews. He explains how getting beat up as a teenager for stuttering and rapping in 1980s Queens, New York—led to his success—to the life he has now—to his tenacity, to his persistence, and to his integrity. Greenie, in fact, became a multi-millionaire…a happy father of two…a success in life..and so much more—because no matter what pain early life threw in his face, he just kept remembering the classic saying that "whatever doesn't kill us, makes us stronger." In short, Greenie turns the typical victim rap song into a powerful message for everyone: everything that happens to us---if we let it be…turns out okay.. It's really ALL good…If nothing else, Greenie is the ONLY rapper to ever have started with nothing, left rap behind, made millions in other ventures and THEN returned to rap music just to express himself artistically. As Krs-One would say, "THAT is Hip-Hop!"
"It's All Good – The Album" features a wide range of other lyrical treats. From the clever rhyme scheme of "Sign the Prenup" in which Greenie attempts to convince a woman to agree to a prenuptial agreement…to a song in which he comically describes the "benefits" of getting a vasectomy to politically-charged songs of great conscious weight like "Real Terrorism" (performed together with Krs-One) or "Already In Heaven" in which he denounces world religions, his album It's All Good" is filled with variety, entertainment value, shock value, education---and flawless rhyme schemes. Greenie himself reports that the album contains "NO filler songs whatsoever" and "plays out like an epic 49 minute movie---listeners don't want to pause."
Production credits on this new hit album include not only Krs-One but also Sean C & LV of P. Diddy's Hitmen, Jesse West (aka Third Eye), DJ Kenny Parker…and others. There are even cameo appearances from old school rap legends Busy Bee and Pebblee Poo as well as enough Krs-One vocals to make the album a worthwhile purchase for fans of the Blastmaster as well. "It's ALL Good" is clear to be one of 2010's hottest rap albums with something on it for everyone. It's presently available worldwide through KrsOneAlbum.Com, CDBaby.Com, and should be available on Itunes and in stores by mid-July..Kudos to Krs-One for finding such a raw talent and doing something original with him.
# # #