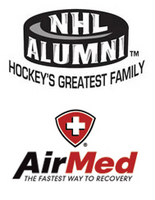 NHL Alumni and their families could not be in better hands than with AirMed.
Birmingham, AL (PRWEB) July 18, 2010
AirMed International, the country's leading air ambulance company, announced today the endorsement and recommendation of AirMed's membership program by the National Hockey League Alumni Association (http://www.nhlalumni.net). The NHL Alumni is a non-profit organization, which serves as a liaison for 28 local alumni groups. The Association has adopted the motto of "Hockey's Greatest Family," providing programs and assistance for all retired NHL players, including career transition with the Life After Hockey Program.
"Our members still travel the world every day, not only as representatives of the NHL but also as leisure travelers. An AirMed membership gives them peace of mind that if they are stricken with illness or injury while traveling, AirMed will get them home. NHL Alumni and their families couldn't be in better hands," said NHL Alumni Executive Director Mark Napier.
As an AirMed Traveler member, if you are sick or injured while traveling, AirMed will get you home to your family, your doctors, your local hospital. It's as simple as that. Whether you're traveling within the U.S. or internationally, an AirMed membership includes air medical transport if you are more than 150 miles from home. AirMed provides world class transportation and the most experienced medical teams in the air—bedside to bedside.
AirMed members pay no out-of-pocket costs or co-pays; there are no financial limitations and no 'medical necessity' requirements. An AirMed membership uniquely brings patients to the hospital of their choice, not to the "nearest appropriate facility" as is the case of most travel insurance programs, health plans and premium card services.
AirMed members also have access to its 24/7 Medical Services Hotline which includes access to our extensive database of English-speaking, Western-trained doctors and other specialists worldwide. Whether it's a stomach virus or a broken ankle, AirMed puts members in contact with doctors across the globe. Trusted by the Mayo Clinic and the U.S. Department of Defense, AirMed provides service to more than 1 million members in North America.
About the Air Ambulance Company AirMed International
AirMed International is the country's leading air ambulance service, offering unparalleled medical care and bedside-to-bedside transportation on a worldwide basis. With state-of-the-art medical jets, AirMed is equipped to pick you up from any hospital around the globe and transport you to the hospital of your choice. Along the way, the most experienced and respected medical team in the air will treat you. AirMed is also on call for you, 24/7, with answers to even the simplest medical questions. And an AirMed membership doesn't cost an arm and a leg. In fact, it could save you one. Membership with AirMed starts for as little as $115. For more information about AirMed International, see our website at airmed.com.
About the NHL Alumni Association
In November 1999, the NHL Alumni Association was established as an independent, non-profit association by amalgamating two Alumni groups formed by the National Hockey League and NHL Players' Association. Its mission brings together former NHL players to: "Support and participate in charitable causes, primarily those youth oriented; Assist former players in their transition to life after hockey; Promote the game of hockey." The NHL Alumni, local alumni associations and members continue to be active in local communities, assisting in fundraising efforts that collectively raise more than $1 million annually for a wide range of charitable causes. Find out more about the AirMed membership benefit offered by NHL Alumni at http://www.nhlalumni.net/airmed.
# # #