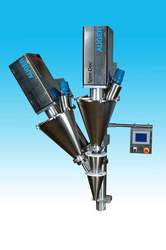 As a company, we welcome the opportunity to take on new challenges, especially for the betterment of our clients
Sturtevant, WI (Vocus) July 7, 2010
The premier manufacturer of volumetric fillers, cup fillers, filling systems and auger fillers, Spee-Dee Packaging Machinery, Inc. has recently improved product quality and consistency for a Fortune 500 Food Processor company.
The objective for Spee-Dee was to develop an in-house packaging system that addressed product quality issues, at the same time, maintaining a required fill rate of 50/minute. The main purpose behind the objective was that the Fortune 500 company produces a side dish product comprised of particulate ingredients and sauce mixes. During the process, one product is placed on top of the other and consequently, the sauce mix is not properly blended with the particulate, resulting in a chunk base solution. There were several failed attempts to correct this issue, however, the company came to the conclusion that the there was no successful solution to be found with the current machine.
Spee-Dee received the request and mounted two augers on the vertical form/fill/seal machine. One of them was straight and one was slightly bent with a 30 degree angle. Both distributed contents into the same collector funnel, resulting in greater blending of the sauce mix and particulate ingredients prior to going in the pouch for packaging.
The result included an increase in product quality and consistency. The pouches were ultimately packaged at an average fill rate of 70/minute, which was an increase of 140%, much greater than what was originally requested by the client.
"As a company, we welcome the opportunity to take on new challenges, especially for the betterment of our clients," commented Timm Johnson, Vice President and Sales/Marketing. "In this particular case, the results were outstanding, once again, proving See-Dee as a leader in the packaging machinery industry.
Spee-Dee Packaging Machinery, Inc. is a premier quality manufacturer of equipment to measure and fill dry products in consumer size containers (bags, bottles, pouches, cans and cartons). Spee-Dee was a pioneer in the development and manufacture of both servo auger and servo volumetric cup fillers. Spee-Dee Packaging Machinery serves a global base of clients in diverse market segments, including the food, chemical, pharmaceutical and agricultural industries. Now in its third decade, the company boasts a star-studded client roster of industry giants and Fortune 500 companies. A history of innovative electrical and mechanical design and programming, coupled with advanced technology and unparalleled customer service, support Spee-Dee Packaging Machinery's position as an industry leader. For more information, please contact Timm Johnson, Vice President, Sales/Marketing, Spee-Dee Packaging Machinery, Inc., 1360 Grandview Parkway, Sturtevant, WI 53177, toll free 877-375-2121, 262-886-4402 or fax 262-886-5502. Send e-mail to info(at)spee-dee(dot)com, and view Spee-Dee's entire family of equipment solutions, including the new Rotary Filling System, at http://www.spee-dee.com.
# # #