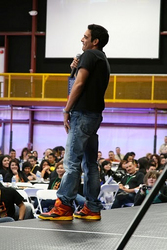 If you focus on your education and have dreams for your future, good things will happen.
San Antonio, TX (PRWEB) July 7, 2010
Youth motivational speaker Gabe Salazar served as the keynote speaker for Tulare County's 2010 Step Up Summit. Salazar spoke to more than 800 teenagers at the McDermont Field House in Lindsay about making positive choices for their futures. According to the Tulare County Gang Prevention Task Force, many of the teens who attended the summit were known gang members or at-risk of joining a gang.
In Salazar's message, he shared a story of a time when he was speaking at a high school in Houston, Texas. Salazar always asks students what they want to be when they grow up. In this case, a known gang member stood up in the back of the auditorium and said he wanted to be a drug dealer. He said in his neighborhood, they have money, nice cars, respect and women.
"That may be true for a time," said professional speaker Salazar, "But the drug dealers I know are either dead or in jail. And that's exactly where you'll end up if you follow that path."
Salazar said as he continued his message, he noticed a school administrator and a Houston police officer walk into the auditorium. It just so happened they were looking for the same young man who said he wanted to be a drug dealer. The officer found a bottle of Tulang, a combination of codeine and formaldehyde, in his pocket. And he was taken straight to jail.
Salazar says he shared this story with youth at the summit to help them realize that there are immediate and long-term consequences to their actions.
"If teens involve themselves with drugs, alcohol and gang activity, the consequences can be deadly for themselves or even for family or friends," Salazar said. "If you focus on your education and have dreams for your future, good things will happen. I don't believe any young person was born on accident. Everyone has a purpose. And that includes every one of you."
What teens said: "I don't need gangs, drugs, and violence to have a good time in life," said one teenage girl participant.
About Gabe: Gabe Salazar is a Professional Youth Speaker who travels the world giving teens a message of hope. Gabe was born to a teen mom and was abandoned by his biological father. He says for a time he felt his birth was merely an accident, but when he discovered his purpose as a teen motivational speaker, he realized his life was "no accident." His focus is giving teens a reason to dream.
###