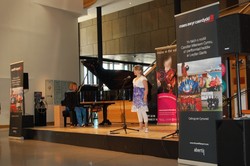 Wales is a culturally rich nation which is reflected through the iconic Wales Millennium Centre. Abertis is delighted to be involved with such a worthwhile project
Los Angeles, CA (PRWeb UK) July 8, 2010
Cardiff Airport and the Foundation of its Spanish parent company, Abertis, today announced their support of Wales Millennium Centre. Their support will provide a platform for young performers from all parts of Wales to develop their talent and to perform at the iconic national arts centre.
The performances will take place from June 2010 on the Centre's Glanfa Stage, which sits at the heart of the Centre's community programme. The performances form part of the Centre's 'Make It Yours' series of free and participatory events, which are integral to the Centre's vision for community engagement and access to the arts for all. This commitment to the community, and arts and culture mirrors Cardiff Airport's own Touchdown Programme, supported by the Abertis Foundation.
Mat Milsom, General Manager, Wales Millennium Centre said:
'The Centre is grateful to Cardiff Airport and Abertis for their valued support and we look forward to working closely with them. Their sponsorship helps us to sustain and extend the Centre's community activities.
'The support builds on previous cooperation with the airport to develop an innovative education project based on the Centre's sell-out production of Wagner's Ring Cycle in 2006, involving children from schools across South Wales.'
Patrick Duffy, Managing Director at Cardiff Airport said:
'The support from our Barcelona-based owners Abertis and the Abertis Foundation has enabled us to sponsor an invaluable arts project in Wales. In addition to supporting the performances, our sponsorship of this initiative will directly fund community activities and enhance access to the arts in Wales.'
Sagrario Huelin, Social Responsibility Head for Abertis added:
'Wales is a culturally rich nation which is reflected through the iconic Wales Millennium Centre. Abertis is delighted to be involved with such a worthwhile project and we look forward to developing a sustainable relationship with the Centre over the coming year.'
EDITORS NOTES

Wales Millennium Centre is an iconic arts venue and a cultural destination for performers and audiences in Wales and beyond. The Centre is a registered charity and provides a creative home to eight of Wales's leading arts and cultural organisations.
For further information about Wales Millennium Centre please visit: http://www.wmc.org.uk. The Centre's news releases can be found at: http://www.wmc.org.uk/press
Further information about Cardiff Airport and Abertis can be found at http://www.tbicardiffairport.com
Passenger traffic at Cardiff Airport reached over 1.6 million in 2009 and the airport directly supports over 1,000 jobs in South Wales.
Cardiff Airport is part of the TBI network, which owns, operates or provides services at eight airports in four countries.
TBI is a company owned by Abertis (90%), the European leader in infrastructure management, present in 18 countries and three continents, and AENA (10%) the Spanish airports operator.
Abertis is an international group managing transport and telecommunications infrastructures through five business areas: Tollroads, Telecommunication infrastructures, Airports, Car parks and Logistics parks.
CONTACT
Meleri Thomas, PR Manager| 029 2063 6428| 07827 351387meleri.thomas(at)wmc(dot)org(dot)uk
Nia Jones, Media & PR Officer|029 2063 6403| 0797 660 1734 nia.jones(at)wmc(dot)org(dot)uk
Press Office, Cardiff Airport | 01446 729311 | catrin(dot)elis(at)cwl(dot)aero
###