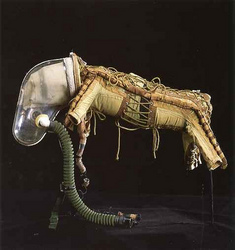 This summer the Rocket Tower at the award winning National Space Centre will be lifting off to new heights as the most exciting development in the Centre's nine year history launches. Space Race will coincide with the leading Leicester tourist attraction
(PRWeb UK) July 8, 2010
This summer the Rocket Tower at the award winning National Space Centre will be lifting off to new heights as the most exciting development in the Centre's nine year history launches.
Space Race will coincide with the leading Leicester tourist attraction welcoming over 2million visitors through its doors and is the culmination of over two years of work to create a new experience that will take visitors on an amazing journey through the imagination of man and onto surface of the moon.
One of the highlights of the new exhibition will be a canine high-altitude partial pressure suit for use in sub-orbital biological research flights.
Deck One is the start of the journey and visitors young and old can encounter real rockets, sit back in the Edwardian cinema to see the first sci-fi movie ever made, take part in the interactive Space Race quiz or even blast off into space with the ultimate water rocket challenge, will you back the US or the USSR in this adventure into space?
Deck Two includes not one but two highlight attractions within Space Race, the Gagarin Experience and the Silo. Within the Gagarin Experience visitors become Yuri Gagarin, the first man in space, as they sit inside the Vostok Capsule and blast off into space.
The Silo is one of the most technologically advanced interactive experiences in the UK and in an attraction dedicated to the futuristic space industry you wouldn't expect anything less. Visitors will be immersed in an audio visual experience that will whisk them back to 1950s Russia and the dawn of the Space Race.
Deck Three will allow visitors to join Neil and Buzz as Apollo 11 lands on the moon. Along with the last piece of genuine moon rock to be returned to Earth by Eugine Cernan on the last mission in 1972, visitors can also challenge themselves to pilot the "Eagle" onto the lunar surface in the only simulator of its kind outside of America!
The creation of three brand new interactive floors within the iconic Rocket Tower will make a visit to the National Space Centre a must for this summer holiday period.
Editor's Notes

The National Space Centre is the UK's largest visitor attraction and research facility dedicated to space.
The National Space Centre opened to the public in June 2001 and has welcomed over 1.7 million visitors, including over 400,000 school children.
The National Space Centre is the Millennium Commission landmark project for the East Midlands. It was co-founded by The University of Leicester and Leicester City Council. Its other founding partners are BT and East Midlands Development Agency.
For further information, images, interviews or media opportunities please contact Malika Andress on 0116 258 2103 or malikaa(at)spacecentre(dot)co(dot)uk
# # #