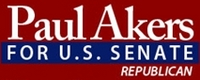 It's time for business leadership in the US Senate.
Bellingham, WA (PRWEB) July 8, 2010
Uncertain political conditions have kept America's 500 largest non-financial companies from investing $1.8 trillion of cash reserves in the economy. Meanwhile, US Senator Patty Murray spent $219 million in earmarks in fiscal year 2010 and supported major increases in spending on healthcare, bailouts, and stimulus.
American business leaders cite uncertainty about tax increases, regulation changes, and increasing government debt as reasons to not invest their reserves in the economy. The direct result is a lack of job creation and economic growth which cannot begin without private sector investment.
For the past 13 years, US Senate candidate Paul Akers created manufacturing jobs in the US and invested in American industry. But recently, Akers suspended construction of a $5 million building project for his company in response to the mounting debt and reckless regulating of political leaders.
Akers stated, "Our current leaders are driving us to the financial brink and revving their engines. It's no wonder that businesses are putting investments on hold. They are waiting for the government to throw the burden of our rising debt on their backs and preparing to weather the second financial storm that is coming."
Akers proposes an economic recovery plan titled 10-3-Lean. It calls for across-the-board cuts in taxes and spending by 10 percent for 3 consecutive years. At the same time, lean business principles would be implemented in federal agencies, dramatically reducing waste and increasing efficiency. Such lean principles have been implemented before, including when they saved $60 million for the Jacksonville, Florida Sheriff's Department.
"It's time for business leadership in the US Senate," Akers added.
Go to http://www.akersforussenate.com for more information.
###