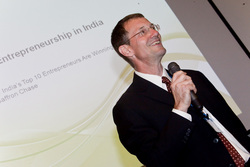 (PRWeb UK) July 13, 2010
Tim Gore, an international global educationalist, is to join the University of London External System as Director of Global Networks and Communities.
The new role, which Tim will take up in September 2010, follows a successful appointment with Greenwich University. There, as Founding Director, Tim Gore developed the Centre for Indian Business, and led the development of an India country strategy for the University which won the 2010 Times Higher Education Leadership and Management Award for Outstanding International Strategy.
His experience with the British Council has seen Tim Gore work closely with educationalists, institutions, companies and governments to improve bilateral and multilateral educational links in Hong Kong, Singapore, United Arab Emirates, Jordan and India. His work to date includes leading the establishment of the British University in Dubai and developing the £26million UK India Education and Research Initiative (UKIERI) which established over 200 educational partnerships between the two countries.
Dean of the University of London External System, Professor Jonathan Kydd said: "I am delighted with Tim's appointment because I believe he will be able to make a huge contribution to the ongoing development and growth of the External System, which now has approaching 50,000 students worldwide. His experience of working with a wide range of stakeholders– from Royalty to teachers and from students to parents – coupled with his business acumen for education will be an invaluable asset for our organisation."
Tim Gore said: "I am very familiar and impressed with what the External System has achieved over the past 152 years through its groundbreaking work in distance and flexible education. For this reason, I am looking forward to taking up my new post and joining an organisation whose values are genuinely about providing worldwide access to education of a high standard, as well as the opportunity to access it from anywhere in the world. I am very much looking forward to joining this dynamic organisation and contributing to its future success. "
Tim Gore's new role with the University of London External System will see him take strategic responsibility for the Global Networks and Communities directorate, which includes relationship building across the world, business development and marketing.
Holder of two Masters - Applied Linguistics and Business Administration – Tim Gore also speaks Arabic and French. In June 2008, he was awarded the OBE for services to education.
Notes for Editors
Picture caption: Tim Gore OBE, the new Director of Global Networks and Communities for the University of London External System.
Tim Gore

During his time with the British Council, Tim Gore worked as a leader, educationalist, business manager and diplomat.
He has worked closely with the Royal Families in Dubai and Jordan as well as senior government officials worldwide.
In both India and the UK, Tim has developed strong strategic relations for the Greenwich University's Centre for Indian Business.
An acknowledged expert on globalisation of higher education and higher education in India, he has organised many conferences and published papers.
The University of London External System

The University of London was established in 1836 and is one of the oldest, largest and most diverse universities in the United Kingdom.
The University's founding principle is to provide education for all, irrespective of race, creed or political belief.
In 1858, the University of London was granted its fourth Charter, which paved the way for the establishment of the University of London External System.
The University of London External System is a unique global network approaching 50,000 students in 190 countries, on more than 100+ study programmes.
The External System has been instrumental in the formation of British higher education – all English and Welsh universities founded between 1849 and 1949 offered University of London degrees before obtaining Royal Charters to award their own degrees.
Between 1946 and 1970, the External System played a significant role in establishing many Commonwealth universities under a unique scheme of 'special relations'.
Through the External System, higher education was made available to a much wider range of social classes; it pre-empted 20th Century developments in open, flexible and distance learning by more than 100 years.
Famous former students and alumni of the External System include seven Nobel Prize Winners: Sir Frederick Gowland Hopkins, Professor Ronald Coase, Wole Soyinka, Derek Walcott, ex-President Nelson Mandela, joint winner Charles Kao and joint winner Dr Rolph Payet, who has now been appointed Vice-Chancellor of the University of Seychelles.
For further information contact: Binda Rai, Head of Corporate Affairs and Communication, University of London External System, Email: binda.rai(at)london.ac(dot)uk, Tel: +44 (0)20 7862 8545 (office) +44 (0)7920 476483 (mobile)
###