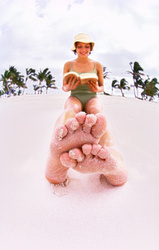 For 80s fans, these books are a great way to re-connect with 80s icons and re-visit the music, fashion and times that made the 80s so like, totally awesome.
Birmingham, AL (PRWEB) July 8, 2010
Still compiling your summer reading list? 80s icons Molly Ringwald, Belinda Carlisle and Pat Benatar have made choosing what to read this summer a whole lot easier with the release of their new books. For 80s fans, these books are a great way to re-connect with 80s icons and re-visit the music, fashion and times that made the 80s so like, totally awesome.
Molly Ringwald's new book, "Getting the Pretty Back" is a guide for the ex-80s girl-now-woman to bring fun and surprise back into her life as she reaches and passes 40. It contains advice and personal stories on a wide range of topics from fashion to dating to hair to family. Her tips are concrete and useful if you are in the mood to pay a little attention to yourself and gain control of the chaos that can be life at 40. It is well written and personal. She includes references to her time making the iconic 80s films she did with John Hughes. You will enjoy her personal and engaging prose style, even if some of her fashion recommendations are out of the reach of the average reader (read, Hermes scarf). It is fun and light and perfect for summer reading.
Belinda Carlisle's new book, "Lips Unsealed: A Memoir" on the other hand, is less life instruction and more tell-all personal memoir. She delves into her life both leading up to and as front-woman for the 80s super-band the Go-Gos and the drugs, alcohol and escapades that went along with it. Reviewers on Amazon love it, claiming that they could not put it down. It is a sad tale of the struggles with addiction and depression. It has an uplifting ending as Carlisle seems to have found peace with herself and her world by the end. As with any good memoir, it has a good sized section in the middle with photos of Carlisle from throughout her life. This book is bigger than Carlisle's story (although her story is certainly enough to make it a great read). It is also the story of the late 70s punk scene as well as all the outrageousness that we remember fondly about the 80s as a decade.
As with Carlisle's new book, Pat Benatar's book, "Between a Heart and a Rock Place" is memoir. However, in Benatar's case, the book is not a tell-all about drugs and the rock star lifestyle. Instead, it is a look back at this 57 year old's amazing career as a female rocker and a trailblazer both in the music industry and in fashion. She jokes in the book that, "Mine is one of the only stories that doesn't involve at least one trip to rehab." The book's focus is more on the music and her struggles in navigating a male-dominated industry. It is also the love story of her 30 year love affair with her husband, Neil Giraldo. Pat and Neil are on tour again this Summer so if the book isn't enough, you can catch them performing live this summer in venues across the country.
Like Totally 80s is a web site devoted to all that was completely and totally radical about the 1980s. It covers topics ranging from music, TV, movies, 80 fashions and celebrities. The site offers a special section on 80s party planning loaded with ideas for 80s parties and 80s costumes.
###