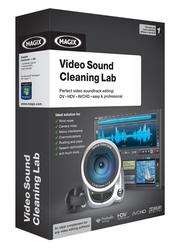 Lanham, MD (Vocus) July 9, 2010
MAGIX knows audio. Since the creation of Music Maker in 1994, they grew their audio engine to support professional audio workstations, moving into the DAW (Digital Audio Work Station) arena fairly early. For 15 years MAGIX has grown its software offerings, continually being recognized for the amazing sound their software produces, even in basic consumer products.
Video Sound Cleaning Lab is another step MAGIX has taken to bring pro-audio tools to the public.
Videos, especially ones made in non-ideal environments, often need a bit a tweaking to bring them up to a consumer's requirements. Many software solutions offer video and picture clean up but skimp out on the audio handling of the footage. Audio is important; anyone who has ever sat through a video with a badly recorded audio track knows this. MAGIX wants its user's videos to speak for themselves - and to be heard clearly.
Video Sound Cleaning Lab has been designed to perfectly integrate with MAGIX's own Movie Edit Pro, and is a great compliment for any other video editing software. With audio editing options that are more extensive than those offered within common video editing software, Video Sound Cleaning Lab is a great tool to use on its own or in conjunction with a video editor.
An example of a pro-audio tool included in the package that users will find no were else is the spectral cleaning tool, simple operation as well as professional waveform display. For every problem MAGIX Video Sound Cleaning Lab has a solution. The active video monitors offers users full control, enabling them to remove wind static, audience coughs or claps, fix how some speech sounds, or replicate the sound of various sized rooms and environments. Users can even preview their video and create a secondary audio track used for commentary on their video.
Users will be provided with all the tools they could possibly want, and then some. With access to the MAGIX online community, users are connected to sound and video professionals where they can post questions and get almost immediate feedback.
Feature set

Complete worry-free package with codecs activated for free, perfectly selected features and optimum workflows!
Easy operation thanks to the infobox, task wizard, video monitor and overview track
Integrated ProAudio technology with the "sound-neutral" Samplitude sound
Import & export formats: AVI, WMV1, MOV, DV-AVI, MPEG-2, MPEG-4, AVCHD, etc.
1Import only
The top user cases (highlights):

Remove wind noise: Get rid of bothersome wind hissing in vacation videos (parametric EQ)
Remove camera noise or power hum: made easily possible with the DeNoiser & FFT filter
Dysfunctional stereo tracks or sound coming in only on one side? Quick sound duplication effect
Optimize speech or remove S-sounds using the compressor or the DeEsser, does just what it sounds like: removes the "s" sound from speech or plays it down
Remove popping sounds: The integrated 10-band EQ solves this problem
Get rid of single coughs, clapping or noises: make use of spectral cleaning
Adjust soundtrack volume, simulate rooms, echo, and much more.
# # #