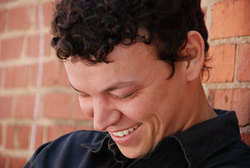 Atlanta, GA (PRWEB) July 7, 2010
Sponsored by California-based HopeLab, Singer-Songwriter (and Columbus, Georgia native) Ryan Hamner, is traveling the South and Southeast this summer for Ryan Hamner Presents: "Hear the Heart" Summer Tour 2010. What began as a leisurely trip around the south with a few dates booked, the tour has all but exploded through eight states, ballooning to twenty-two interviews and performances over the past two weeks. Local media coverage like FOX, NBC and CBS, along with local newspapers, love this story and are showing up in support of Ryan's efforts. (http://www.ledger-enquirer.com/2010/06/29/1176793/local-singer-songwriter-ryan-hamner.html) Ryan is leaving behind not only his newly released music, but his inspiration to those he touches as well.
In 2009, Hamner teamed up with producer extraordinaire Jeff Tomei on his new album "Between the Lines." Tomei was responsible for producing such noted bands as Matchbox 20, Smashing Pumpkins, and singer-songwriter Edwin McCain. Since then, several of Hamner's songs have been licensed for use on four different MTV shows, a reality series on VH1, and a show on the Oxygen network. Last year his song, "Lay Me Down" received national airplay.
During this free tour, Ryan is performing songs from his latest album, "Between the Lines" (released on June 28, 2010) at local cancer research centers, cancer patient lodges, hospitals, and universities in several cities, raising awareness and funds for cancer research and charities. Audiences are also getting a special treat when he plays his latest single in support of the tour, "Hear The Heart" soon to be recorded. He is also distributing Re-Mission, a free video game developed by HopeLab, which is designed specifically for young people with cancer. Now, thirty-three, Hamner himself is a four-time Hodgkin's Lymphoma cancer survivor, and has been living cancer free for the past twelve years.
A professional musician since the age of seventeen, Hamner also teamed up with Blue Cross/Blue Shield in 2000 to author and illustrate a successful children's book about surviving cancer entitled,"You'll Be Alright, Buddy." All proceeds from the book were distributed to various cancer-related charities.
Visit the tour site at http://www.hearthehearttour.com and Hamner's official website at http://www.ryanhamner.com.
# # #