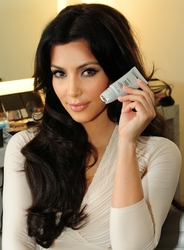 "This program is having significant impact on women advancing themselves through the power of business and camaraderie. We have the power to empower, and we are exercising it." - Kim Kardashian
Pompano Beach, FL (PRWEB) July 7, 2010
How do you keep up with Kim Kardashian? Contestant on Dancing with the Stars and star of the hit show Keeping Up with the Kardashians, her face is on countless covers and in celebrity magazines, and her signature look is copied by women across the country.
Catch Kim when she visits The Balancing Act, airing Thursday, July 8, on Lifetime Television from 7:00 until 8:00 a.m. (ET/PT), to reveal her favorite beauty secrets courtesy of FusionBeauty, as well as her involvement with their charitable campaign "Kiss Poverty Away."
FusionBeauty's "Kiss Poverty Away" benefits the Seven Bar Foundation, raising funds for women around the world to get out of poverty. The campaign already raised over $100,000.
"I am so proud to be the face of FusionBeauty's 'Kiss Away Poverty' campaign," says Kim. "It contributes one dollar from every sale of Fusion Beauty's LipFusion Lip Gloss to the Seven Bar Foundation to empower women through microfinance."
"This program is having significant impact on women advancing themselves through the power of business and camaraderie. We have the power to empower, and we are exercising it."
And her #1 summer beauty secret? The IllumiFill Line-Filling Luminizer. It's a lightweight, pale-pink facial highlighter that firms the skin and instantly brightens complexions for a luminous, youthful appearance.
What about her famous love life? According to Kim, who is this close to mom Kris and sisters Kourtney and Khloe, new nephew Mason is "the love of my life," although she admits to babysitting and "begging Kourtney to come home and get him; it was really hard!" Fans of the show, entering Season 5, will see "a lot of my single life," Kim admits. "I've never been single, so you'll get to see what goes on. I'm handling it well…you spend a lot of time with someone you love and then it's time to move on. It's important to grieve and get over the breakup. It's like the loss of a friend. But you were there by yourself before you met that person, and it'll all be fine. I'm having a good time being by myself and being single."
About The Balancing Act:
The Balancing Act TV show airs weekday mornings on Lifetime Television from 7:00am until 8:00am (ET/PT) and is America's premier morning show that's about women, for women, and trusted by women. Celebrating life and all there is to accomplish, The Balancing Act inspires and empowers with entertaining and educational segments, placing women in the best position to achieve success in every area of their lives.
For additional information or to view a segment, visit http://www.TheBalancingAct.com . To sign up for the show's newsletter go to http://www.thebalancingact.com/join.php .
For more details about The Balancing Act, LLC please visit parent company O2 Media Inc. at http://www.o2mediainc.com . For Media/Marketing Relations—please contact at szucker@o2mediainc.com , or call (954) 691-1102.
###