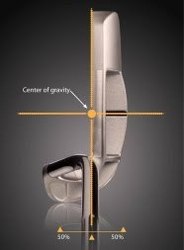 World's only Torque Free putter. Award winning Design
Boston, MA (PRWEB) July 7, 2010
The recent selection by IDEA (International Design Excellence Awards) of the Axis1 putter as one of the most innovative products for 2009, further validates the uniqueness of our patented approach for developing the first, Perfect Balance, "Torque Free Putter." Never in the history of golf, has a company ever placed the center of gravity of a putter, exactly on the sweet spot of the striking face and in line with the axis of the shaft at the same time.
"The Axis 1 Eagle putter has been awarded a Bronze award from the prestigious Industrial Design Society of America for 2010. All golf putters, because of the way they are designed, have a natural tendency to open up while a player is addressing the ball and swinging the club. This means that all golfers are constantly compensating for the club twisting in their hand, which can lead to a golfer pushing their putts off line. This was the insight that led to the challenge of designing the first perfectly balanced and torque-free putter" they said on their website announcing the award.
http://www.blue-harvest.org/content/content1/axis1eagle
The Industrial Designers Society of America (IDSA) is the world's oldest, largest, member-driven society for product design, industrial design, interaction design, human factors, ergonomics, design research, design management, universal design and related design fields. IDSA organizes the renowned International Design Excellence Award (IDEA) competition annually.
The Axis 1 Eagle has previously been awarded other accolades:
"Most Innovative Club" PGA Show 2009
"Best in Show" Sports Illustrated, Golf Edition, 2009
"Best New Golf Product" Golf.com
"Most Innovative Putter" MyGolfSpy.com
Luis Pedraza, the designer and CEO of the company explains the genius behind his design: "The Axis1 Eagle is the first 100% perfectly balanced putter. Because it is both face balanced and shaft balanced at the same time, it doesn't naturally open-up, resulting in more on-line putts and lower scores. We accomplished this special feat by pushing the weight forward with a patented heel counter weight that for the very first time places the center of gravity right on the center of the striking face and perfectly aligned with the axis of the shaft." This is the only golf product with this unique design feature and Axis 1 Golf owns this patent.
Axis1 was founded in 2006 by Pedraza, an avid golfer and an internationally acclaimed industrial designer with over 25 patents in the fields of Medical/scientific instrumentation, Computer Equipment, Consumer Products, and Sporting Goods. Mr. Pedraza has excelled in developing products with complex ergonomic requirements and is particularly proud of is his design of Spaceball, a 3-Dimensional computer mouse which was used to control the Mars Rover.
The Axis1 Eagle can be found at TGW (online), Edwin Watts (in Houston and Palm Beach Gardens, FL) Games People Play (Houston) or online at our website.
Contact: Luis Pedraza – 617-792-8693, http://www.Axis1golf.com
Media Contact: CB Maxwell, Maxwell Media Marketing: 209-533-8291
###