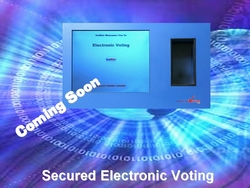 The distrust in electronic voting stops with us. We are especially focused on providing user friendly and user driven systems with the highest level of security to back them up.
Mineola, NY (PRWEB) July 8, 2010
Eight years ago, the Election Assistance Commission was founded, and the Help American Vote Act created, to in-flux $3.9 Billion in grant monies to be proportionately distributed to the States to up-grade their outdated voting equipment. This came at one of those proverbial crossroads in life for Precise Voting founder and Managing Partner, James L. Kapsis.
Kapsis, armed with statistics on growing discontentment for the existing voting equipment, and articles on the explosive growth and potential of new electronic equipment, started the Precise Voting LLC and its VotRite rental division.
His goal for product development was two fold; build the most secure voting machine and make it reach every type of voter. His vision and strategic focus became, and remains, "Voting with Technology".
Initially, Kapsis would handle all the marketing, accounting and development of the project from his home- based office, while the engineering and software were outsourced. This allowed James to maximize his time and dedicate his attention to the systems integration and intricate specifications requirements.
With the establishment of the VotRite division the company's target market segments pioneered to include not only government users, but private organizations as well. A joint venture with The UPS Stores has given this VotRite rental division a unique means of cost efficient storage and rapid distribution within the clients' area.
Confidence in the Precise Voting products is apparent from the company website which is filled with detailed information on the world of electronic voting, including a section on history and research links. The fast loading site makes the obscure and niche industry accessible to even the unfamiliar public. With the controversy and uncertainty that currently surrounds governmental electronic voting; Kapsis' transparent approach to the market is a breath of fresh air and a sigh of relief.
Precise Voting provides both computer products and services which give all voters and their representatives the certainty and convenience everyone deserves. "The distrust in electronic voting stops with us" Kapsis stated "We are especially focused on providing user friendly and user driven systems with the highest level of security to back them up". Security specifics include a PC-based system and three tier redundant memory-based system, paper trails, and the ultimate in over voting prevention, while their services include ballot design, training, nationwide software and hardware support.
'Voters have taken the ballot for granted in private and public sectors for far too long now', Kapsis mentions, 'The use of paper ballots dates all the way back to Rome in 139 B.C.! It has undergone a lot of changes over the centuries, and we are currently in need of another major upgrade. Voting is moving into the electronic age much like banking and most of our technology growth.'
You can check out Precise Voting LLC at http://www.precisevoting.com or call for their free brochure and PowerPoint presentation at 1-516.414.1874. Also visit http://www.votrite.com for more information on the services offered for private organization elections.
Interview Contact: James L. Kapsis, Precise Voting LLC
Telephone: 1-516.414.1874
http://www.precisevoting.com
219 Mineola Blvd, Mineola, N.Y.11501 USA
Fax 1.516.294.6999 or 1.516.625.0675
###