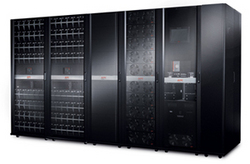 The RefurbUPS PowerSWAP™ program is the most comprehensive and cost competitive proven UPS battery maintenance solution offered in the industry today.
Suffern, NY (PRWEB) July 13, 2010
Unlike traditional battery suppliers, RefurbUPS.com offers the support of their industry leading expertise and experience in working with Enterprise class mission critical UPS systems and battery backup systems, as well as the comfort of knowing they will be there with you, hands on, when you need them.
PowerSWAP™ is designed to professionally revitalize and restore the runtime in critical UPS systems at a fraction of the cost of buying OEM replacement battery modules. Proper UPS battery replacement is a vital preventative measure that is required to keep equipment running at optimal performance, and ready in times of need. Specially designed PowerSWAP™ packaging makes recycling of failed units such as the SYBTU1-PLP fast and convenient.
Better yet, by reusing the battery module housings, and just replacing the battery cells themselves, PowerSWAP™ reduces landfill impact, and ensures environmentally responsible recycling of the battery components. Using the principles of Reduce, Reuse, and Recycle, RefurbUPS.com is bringing a little green into the UPS business, and saving organizations money at the same time…really a step in the right direction.
According to APC UPS Systems engineer Bill Powers, "the RefurbUPS PowerSWAP™ program is the most comprehensive and cost competitive proven UPS battery maintenance solution offered in the industry today. With our decades of experience and UPS expertise, you can rest assured that our power protection specialists can custom tailor a PowerSWAP™ program to meet your needs and saving you time and money in the process, while providing peace of mind."
PowerSWAP™ has helped thousands of companies large and small searching for alternative UPS battery solutions and savings. Not only does PowerSWAP™ reduce the environmental impact of battery replacement, it actually reduces the total cost of ownership of the UPS system. In a world where valuing the environment usually involves increased costs, PowerSWAP™ allows conservation to make fiscal sense too.
Bill elaborated, "With proper battery maintenance and proactive UPS battery replacement, these industrial UPS systems can last years beyond the original manufacturer warranty, but our customers have found that manufacturers would rather have you upgrade to a newer, more expensive system, or purchase exorbitant replacement battery modules. We have helped enterprise customers of all sizes in the revitalization of their existing UPS systems and extended their return on investment, while lowering their total cost of ownership without sacrificing performance or reliability."
About RefurbUPS.com
RefurbUPS.com is a leading provider of refurbished UPS systems, and brand new UPS battery systems for applications from desktops to datacenters. Based in Suffern, NY, they serve customers nationwide through their industry leading integrated secure online distribution platform, http://www.RefurbUPS.com. With over ten years of experience in the refurbished UPS market, they are the industry leader, both in terms of volume, and in terms of the sophistication of their refurbishment process. Hundreds of thousands of their Performance Guaranteed UPS systems are protecting tens of thousands of their customers currently, with many more on the way. Thousands of datacenters rely on the high performance batteries and UPS systems that they distribute. To learn more about how RefurbUPS.com can help you protect your valuable systems and data, give them a call today at 866-883-9200.
###