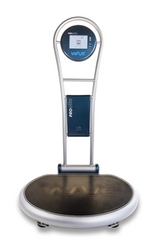 We see the success of WAVE in the medical and sporting domain with a strong history in North America as a huge endorsement to aid the presence of the WAVE product here in Australia
Toronto, ON (Vocus) July 7, 2010
WAVE (Whole-Body Advanced Vibration Exercise), a North American company, is expanding its cutting edge vibration exercise technology into Australia. All three of WAVE's revolutionary vibration platforms, the Pro Elite, Air Reflex and Contour Plus, are now available in Australia.
Vibration exercise is spreading like wildfire across North America. WAVE is currently being used by Olympic athletes, novice users and the aging population alike. The expansion will be spear headed by Preventative Healthcare Services Ltd, a distributor with a wealth of knowledge, understanding and experience within the wellness market.
"We see the success of WAVE in the medical and sporting domain with a strong history in North America as a huge endorsement to aid the presence of the WAVE product here in Australia," says David Norman, Managing Director for Preventative Healthcare Services Ltd.
"WAVE is proud to be partnering with Preventative Healthcare Services Ltd as the vibration exercise choice for Australia," says WAVE CEO Harmeet Kuner. "With our international expansion we plan to bring quality, high standard vibration platforms to the world."
WAVE is part of the Preventative Healthcare Services Ltd Strength for Life Australasia program. WAVE is a vital part of the Strength for Life program directed at community, rehab, medical, allied health and fitness facilities.
WAVE has experienced expediential growth with its vibration training exercise platforms. Using vibration technology to involuntarily contract and relax the body's muscles up to 50 times per second, allows its users to reduce conventional workout times from 1 hour down to 15 minutes with better results. The life-changing benefits gained from using WAVE are: accelerated weight loss, cellulite reduction, positive bone density, strength, blood circulation and increased balance.
For more information on WAVE please visit us on the web at:
http://www.wavexercise.com
For more information on the Strength for Life program and WAVE distribution in Australia, click, call or email: http://www.strengthforlife.org.au, 1800 771 079
###