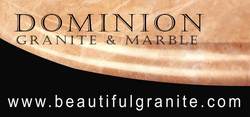 We don't just cut rectangles and install them into peoples homes
Ashburn, Virginia (Vocus) July 8, 2010
Northern Virginia/DC Metro company Dominion Granite and Marble known among retail and commercial countertop customers for fine craftsmanship and their high level of customer service, launched a blog, countertoptalk.com in an effort to untangle the misnomers associated with granite, marble and man-made countertop products.
For the past decade, Dominion Granite and Marble at beautifulgranite.com, has prided itself on customer service and it's ability to translate customer wants into physical products. "We don't just cut rectangles and install them into peoples homes," says senior partner Austin Yavorsky, "we are a custom one stop shop so we have always been able to remain competitive with the larger home improvement warehouses." With laser scanning capabilities, in house CAD design, in house fabrication and installation, Dominion is anything but your typical countertop company. Austin recalls, "Over the years we found ourselves doing more complicated residential and commercial work. We developed a niche for being a company that could solve problems both efficiently and creatively. All of this experience has given us a working knowledge that allows us to capably communicate with retail and commercial clients about their projects. Because we are sharing this information daily we decided to start a blog which educates others and helps the industry."
Senior partner Eric Decker commented, "Blogs are a great place for people to comfortably discuss a variety of products and services. By offering an open forum we can educate our customers and allow them to make informed decisions on countertops. At the end of the day, we have a near zero dollar advertising budget. The main reason people have come to us over the years is because of our level of expertise and commitment to customer satisfaction. We expect that http://www.countertoptalk.com will allow us to further educate our customers. For us that's what separates us from our competition."
Eric and Austin expect blog topics to focus on the fabrication and installation of granite, marble and man-made surfaces such as Caesarstone® and Zodiaq®. They also anticipate general construction discussions and topics relating to the care and maintenance of countertops.
# # #