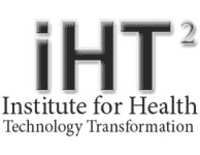 New York, NY (Vocus) July 7, 2010
The Institute for Health Technology Transformation announced today that the selection process is underway for healthcare technology companies to present at the annual Health Technology Investment Forum taking place September 21, 2010 in New York City.
The Health Technology Investment Forum will feature twenty healthcare IT companies who are looking to raise capital, partnering their products or technologies, or initiating strategic alliances. Each company will have the opportunity to present to a national audience of CEO's, investors, analysts, healthcare executives, and industry stakeholders focused on healthcare information technology.
Presentations will be competitively selected by a committee of venture capitalists, bankers, health IT executives, company CEO's, and other industry experts. The criteria for selection include stage of development, market opportunity, intellectual property protection, expected capital raise, whether the technology is licensable, and conference appeal to investors, analysts, or other potential partners. Presenters will focus on corporate missions and types of opportunities sought.
Those interested in presenting or learning more should visit http://ihealthtran.com/healthtechforumnyc.html or contact Robert Jaggers, VP of Business Development, Institute for Health Technology Transformation at 561-748-6736.
In addition to the healthcare information technology companies presenting, the Summit will also feature a series of keynote presentations, panel discussions, and more. The keynote presentations will feature Rachel Block, Deputy Commissioner, Office of HIT Transformation, NY State Department of Health, and Will Yu, Director of Innovation, Office of the National Coordinator. The panel discussions will cover topics such as the state of healthcare IT, the CIO perspective, and healthcare IT investment trends. Participants in the panel discussion include: Camden Partners, Thomas Weisel Partners, Raymond James & Associates, HLM Venture Partners, Health Evolution Partners, Seneca Partners, Inc., New York eHealth Collaborative, Needham & Company, Radius Ventures, Chysalis Ventures, Leerink Swann, Continuum Health Partners, Psilos Group Managers, LLC, and more. Current presenters include: EDIMS, MMR Information Systems, Teladoc, and AccessGranted.
The Forum's attendees will include – private equity firms, institutional investors, venture capital firms, private investors, analysts, healthcare IT companies, medical device companies, corporate investors, commercial brokers, investment bankers, law firms, and strategic advisory firms.
The 5th Health Technology Investment Forum is a one-day forum that provides an opportunity for investors and healthcare leaders to discover the latest trends and investment opportunities in the healthcare information technology sector. The Forum is one of the most exclusive and intimate gatherings of investors and healthcare executives to network,
About the Institute for Health Technology Transformation
The Institute for Health Technology Transformation is the leading organization committed to bringing together private and public sector leaders fostering the growth and meaningful use of technology across the healthcare industry. Through collaborative efforts the Institute provides programs that drive innovation, educate, and provide a critical understanding of how technology applications, solutions and devices can improve the quality, safety and efficiency of healthcare.
# # #