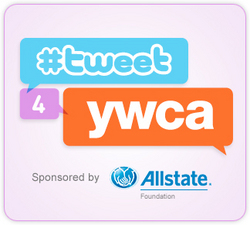 Northbrook, IL (PRWEB) July 7, 2010
Helping domestic violence survivors just became as easy as sending a tweet to your friends and family. The Allstate Foundation and the national YWCA have joined together to help end domestic violence through the #Tweet4YWCA campaign.
Beginning July 7, The Allstate Foundation is donating $1 to the YWCA for every tweet that includes #Tweet4YWCA, up to $75,000. The tweet-a-thon will run from July 7-16.
Additionally, Allstate Foundation's website, http://www.ClickToEmpower.org , will feature a leader board, live streaming tweets, and a real time calculator of how much has been donated during the campaign.
Allstate Foundation, @ClickToEmpower, and YWCA, @YWCAUSA, have a commitment to ending domestic violence and providing economic empowerment programs.
Recap:
1. Send a tweet using the hashtag: #Tweet4YWCA.
2. Visit http://www.ClickToEmpower.org to see how close we are to reaching the $75,000 goal.
3. Follow @ClickToEmpower and @YWCAUSA to get updates about the campaign.
What you can do to help?

Tweet, retweet, and tweet some more! Every #Tweet4YWCA earns one more dollar toward the $75,000 goal.
Post a #Tweet4YWCA button or banner on your website and Facebook page (see below).
Distribute our graphic e-mail (attached) to your friends and family and get them tweeting for the campaign.
Need more inspiration to #Tweet4YWCA? Watch and share the empowering videos on the domestic violence playlist at http://www.youtube.com/allstatenews.
About The Allstate Foundation
Established in 1952, The Allstate Foundation is an independent, charitable organization made possible by subsidiaries of The Allstate Corporation (NYSE: ALL). Allstate and The Allstate Foundation sponsor community initiatives to promote safe and vital communities; tolerance, inclusion, and diversity; and economic empowerment. The Allstate Foundation believes in the financial potential of every individual and in helping America's families achieve their American dream.
###