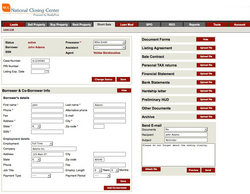 National Closing Center has developed a full short sale and loan modification processing system that works with laser-like precision.
Willowbrook, IL (PRWEB) July 9, 2010
Due to the lengthy turnaround time, exhausting communications with overwhelmed banks and unpredictable outcome many real estate brokers and agents tend to avoid short sales. However, current market has little to offer besides all kinds of distressed properties.
Real estate companies that avoid short sales loose a great source of income as well as trust of their clients, as buyers tend to look for bargain properties and are eager to purchase a short sale more often than ever before.
Upon release of a brand new website on July 1st, 2010, National Closing Center Corp. (NCC) is now offering short sale and loan modification processing services nationwide at no cost to real estate professionals.
Until now the company has been active in short sale/loan modification processing mainly in Illinois and their team of loss mitigators has earned a reputation of the "toughest negotiators in Chicagoland."
As short sale processing is often regarded more of an art than science, skills and experience of negotiators was the major factor of NCC's success. However, after successfully teaming up with RealtyProx, the creators of most advanced short sale processing software, NCC has got the science part covered as well. NCC now has developed a full short sale processing system that works with laser-like precision.
How does NCC services work and why the company is different from the competition?
Every client who registers at http://www.processingshortsale.com automatically becomes a user of RealtyProx at no cost. There is nothing to download, install or update; RealtyProx is 100% based on the concept of cloud computing (i.e. completely web-based).
Upon completion of a simple registration process, the user can log into the system and file the first short sale/loan modification request. Within 24 hours a negotiator is assigned and the agent notified about actions taken. The agent also receives direct contacts of the negotiator.
From now on all the parties involved in the short sale/loan modification processing communicate via RealtyProx. The system allows multiple ways of collaboration, including access to document forms, uploading and sharing documents, emailing other parties without the need to open email client, time-stamped comments with different permission levels to help track down the direction negotiations are taking, and multiple report capabilities.
Despite being precise and complex tool, RealtyProx is very user friendly and does not require any specific skills besides basic abilities to operate a computer. Combined with the skills of NCC, it's the most comprehensive and effective short sale processing system available to date.
A real estate agent is in full control of the process, updated 24/7, but actual work—negotiating with lenders—is performed by NCC employees. This way agents and brokers do not have to spend their productive time of the day trying to get a hold of a bank representative or searching for a missing piece of a short sale package.
Possessing both knowledgeable and experienced team and powerful software, NCC has great advantage over those companies that offer only an access to some kind of software without actually providing mitigation services, as well as those who provide negotiation services without offering cutting-edge tools.
About National Closing Center
National Closing Center (NCC) provides short sale and loan modification processing services for real estate professionals nationwide at no cost to real estate agents or sellers.
NCC has a capacity to handle occasional requests by a single broker as well as a constant work-flow from a multi-agent brokerage. Currently NCC's closing ratio is nearly 98 percent. From submitting a short sale package to tracking down mitigation progress to closing the file all services of NCC are transparent, performed with laser-like precision and maximum accountability.
# # #