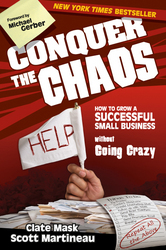 It's cool to see my name on the New York Times Best-Seller list, but that's not why we wrote Conquer the Chaos
Gilbert, AZ (Vocus) July 7, 2010
Conquer the Chaos: How to Grow a Successful Small Business Without Going Crazy, debuts No. 4 on the New York Times Best-Seller list in its first week of sale. The book, written by entrepreneurs for entrepreneurs, is coauthored by the founders of Infusionsoft, Clate Mask and Scott Martineau. The book also debuted No. 3 on the USA Today list and No. 4 on the Wall Street Journal's Best Business Books list.
"It's cool to see my name on the New York Times Best-Seller list, but that's not why we wrote Conquer the Chaos," said Clate Mask, CEO and cofounder of Infusionsoft. "This book was born out of our passion to help small businesses. We have spoken to tens of thousands of small business owners about the chaos they face everyday as entrepreneurs. Plus, we have lived it ourselves starting Infusionsoft almost 10 years ago. Conquer the Chaos is about sharing the lessons we have learned through our customers and our own experiences and teaching entrepreneurs there is a better and easier way to run a business."
In Conquer the Chaos, Mask and Martineau share their experiences of building Infusionsoft from the ground up, revealing the early days of their own chaos when they could barely make payroll, lived on pizza and who's families rarely saw them. Their stories will ring true with business owners and aspiring entrepreneurs everywhere. Readers will learn strategies for overcoming that buried feeling many small business owners encounter. Strategies covered include: tips to organize, getting your mindset straight, small business marketing, the importance of follow-up, marketing automation and more.
"I started reading Conquer the Chaos on a Friday night thinking I would read a couple of chapters and then fall asleep because I always fall asleep when I read," said Linda Napier, director of professional development of Tension Management Institute. "At midnight I had read half the book and didn't want to put it down. I had to get up early so I put in my bookmark, turned off the light and tried to sleep. It was like I had three cups of coffee in me. My mind was reeling with ideas and I was so motivated. Thank you for a thought-provoking, motivating, business-changing book."
Mask and Martineau explain six strategies to help entrepreneurs find their freedom, grow their business and achieve their purpose. Download this free Conquer the Chaos webinar the authors hosted to hear more information on the six strategies.
About Infusionsoft
Infusionsoft, the leader in Email Marketing 2.0, empowers small businesses to grow smarter and faster through targeted marketing that automatically adapts to prospect and customer behavior. Infusionsoft is the first to combine email marketing and CRM in one app that's driven by a powerful automation engine that allows entrepreneurs to market more effectively so they can grow their small businesses. The privately held, three-time Inc. 500 company is based in Gilbert, Ariz. and is funded by Mohr Davidow Ventures and vSpring Capital. For more information, visit http://www.infusionsoft.com.
# # #