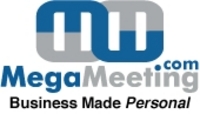 Before MegaMeeting, we could cobble together a conference call for staff or for clients with appropriate materials to share; but now, we can know that when we conduct these virtual meetings, we are LITERALLY all
Los Angeles, CA (Vocus) July 7, 2010
The function of the Jewish Education Service of North America (JESNA) is to equip communities and institutions with the knowledge and know-how they need in order to deliver engaging, high quality Jewish education. So when looking for a solution to increase employee productivity and streamline their online resource library, it was only natural they turned to MegaMeeting.com's 100% browser-based video and web conferencing tools.
Used by many departments, the staff at JESNA takes full advantage of MegaMeeting's feature rich application. According to Jenny Aisenberg, Knowledge Development Manager for JESNA, "Our primary use for MegaMeeting has been conducting seminars with Jewish educators & administrators in the field. It has been extraordinarily helpful to have the ability to share video & presentation materials, and also to be able to record & keep these seminars for our online library for others to view. We have also used it for staff meetings and board meetings."
Prior to using MegaMeeting.com, all communications with remote staff, board members, and educators in the field could be done either by conference call or occasionally by in-person meetings in their New York office. Jenny Aisenberg goes on to say, "Before MegaMeeting, we could cobble together a conference call for staff or for clients with appropriate materials to share; but now, we can know that when we conduct these virtual meetings, we are LITERALLY all "on the same page." The added value of being able to record and keep our meetings & seminars for future use is a great boon to efficiency & productivity, since we don't have to replicate the same virtual meetings over and over".
About MegaMeeting.com
MegaMeeting.com is a leading provider of 100% browser based video & web conferencing solutions, complete with real time audio and video capabilities. Being browser based and working on all major operating systems – Windows, Mac & Linux; MegaMeeting.com provides universal access without the need to download, install or configure software. MegaMeeting.com web conferencing products and services include powerful collaboration tools that accommodate robust video & web conferences, including advanced features such as desktop/application sharing, i.e. Word and Excel documents and PowerPoint presentations without the need to upload any files. MegaMeeting is ideal for multi-location web based meetings, virtual classrooms, employee trainings, product demonstrations, company orientation, customer support, product launches and much more.
For more information please visit http://www.megameeting.com or call (818) 783-4311.
# # #