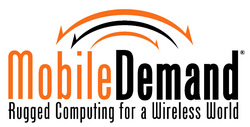 MobileDemand offers ultra-mobility, rugged performance and exceptional efficiency to public sector agencies that depend on mission-critical computing.
Hiawatha, IA (PRWEB) July 7, 2010
MobileDemand, a leading provider of rugged Tablet PC computers for mission-critical computing, announced today the formation of its Public Sector Services Group focused on the development and deployment of mission-critical applications and solutions for federal, state and local governments. The company will focus primarily on public safety, including law enforcement, emergency management, fire investigation, building code compliance, homeland security and other computing solutions for rugged environments. MobileDemand also announced its Application Development Partner Program aimed at helping value-added resellers develop solutions for rugged tablets that are field-ready and compliant with current and future public sector specifications.
Analyst firm VDC Research predicts that the field service mobility market will grow by an annual rate of 13 percent through 2013. The shift toward mission-critical computing is based on an increased demand for rugged mobile computing solutions that stand up to harsh conditions and provide versatility, enabling workers in the field to work smarter, faster and safer.
Said MobileDemand President Matt Miller, "The demand for mobility and for anytime, anywhere computing is changing the way the public sector operates. With the technology that is available today, there is no need for a field worker to be tied to a desktop computer. Our products offer ultra-mobility, reliable performance and exceptional efficiency to public sector agencies that depend on mission-critical computing."
"The MobileDemand xTablet T7000 is well suited for most of our Inspection-type applications that need mapping overlay/GPS support as it doubles up as a full PC, combined with the portability of a handheld with rugged features as well," said Ramesh Narayanaswamy, CEO of Mobizent. "The xTablet T7000 allows us to develop and deploy native Microsoft Windows Touch/Multimedia applications without much rework of our existing desktop applications. It also provides extra long battery life, which has been a gating factor for deploying mobile/field applications in the 7-inch screen format. We found the screen readability and its use in direct sunlight conditions to be superb as well. Mobizent is looking forward to continuing our work with MobileDemand to provide solutions to the public sector."
MobileDemand offers the xTablet T7000, a rugged Windows-based Tablet PC (http://www.ruggedtabletpc.com) that gives users one-hand operation, providing not only ultra-mobility but additional safety, letting workers, like police officers, keep one hand available and unencumbered at all times. Data input with the tablet is highly flexible as well, with an integrated numeric keypad, optional QWERTY keyboard, and barcode and credit card readers. These features allow customization to fit the needs of diverse agencies.
MobileDemand is actively seeking application development partners to test and support field-ready applications in the public sector. Applications must be robust, run on standard Windows-based operating systems and be deployable based on common standards that are both reliable and repeatable. In addition to providing a test platform for rugged tablet PC development, MobileDemand provides business development and marketing support as part of its partner program, allowing the companies to provide a complete end-to-end solution for the customer – including hardware, software, support and professional services.
About MobileDemand
Mobile Demand is a leading provider of rugged Tablet PC computers for mission-critical computing for public sector applications for health and safety inspections, emergency management, law enforcement and defense (http://blog.ruggedtabletpc.com/public-sector/home). Other industries include food and beverage distribution, manufacturing, retail, hospitality, transportation, agriculture and utilities. MobileDemand rugged computers provide ultra-mobility and versatility, are built to withstand harsh environments, offer a full 1024x600 resolution touch screen and full Windows 7 OS, and deliver performance at a lower cost to enable greater efficiency and productivity in the field. MobileDemand is headquartered in Hiawatha, Iowa, with manufacturing facilities in Taiwan. For more information visit http://www.ruggedtabletpc.com.
About Mobizent
Mobizent is a leading provider of end-to-end Mobility Solutions for State & Local Governments (SLGs) and Enterprises in the United States specializing in developing Wireless Handheld solutions that are complete, integrated public sector applications. Mobizent was founded in Edison New Jersey in 2009 as a spin-out from 3i Infotech. The company is focused on providing handheld software solutions to public safety, housing, sanitation, environmental protection and law enforcement. For more information visit http://www.mobizent.com.
###