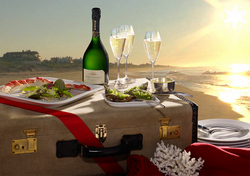 G.H.MUMM's escapade takes us to the chic Hamptons region.
(PRWEB) July 8, 2010
In keeping with the founders' taste for adventure, the Champagne House of G.H.MUMM has launched a new international website with a unique perspective on gastronomy and design. The site's innovative videozine format presents a journey around the globe for gourmets. Since its creation in 1827, G.H.MUMM has cultivated close ties with the worlds of fine food and fine living.
G.H.MUMM stops off in style in some of the world's most vibrant cities and proposes a number of sophisticated culinary experiences in original locations.
G.H.MUMM's escapade takes us to the chic Hamptons region.
At the end of the season, the sun is still warm enough for one last picnic in the wild dunes before returning to the city's heavy pulse. A true expression of "east coast" bucolic, yet relaxed, elegance…
This sophisticated culinary experience is a unique, multisensory way to celebrate the world's variety.
You can recreate your culinary experience wherever and whenever you please with a click of the mouse. Menu recipes, music, video-art wallpapers and exclusive shopping tips are all available for download as part of a playfully luxurious tool kit designed by G.H.MUMM just for you.
Frederick e. Grasser Hermé, a chef of rare artistry, has devised a range of exquisite, subtle menus with deliciously original flavours that reveal the world's culinary variety in a daringly different light.
G.H. MUMM's Cellar Master, Didier Mariotti, pairs each dish in the menu with the appropriate Champagne from the G.H.MUMM stable.
Once again, G.H.MUMM combines the exceptional know-how of prestigious Maison de Champagne with the taste for innovation and gastronomy to make each gourmet experience unforgettable.
Your table awaits you, with a stunning view to match.
###