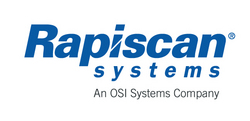 Arlington, VA (Vocus) July 8, 2010
The ISO 28000:2007 management system specification has been developed and introduced in response to the demand from the transportation and logistics industry for a common security management standard to assess security risk and implement controls to manage security threats. The certification recognizes Rapiscan Systems' efforts to enhance the critical security of their supply chain, specifically within the transport and logistics system.
Mr. Ajay Mehra, President of Rapiscan Systems, commented: "As the internationally recognized standard for supply change management, this certification is a very important milestone for Rapiscan Systems. It demonstrates Rapiscan's corporate quality vision and our dedication to deliver world class quality and reliable solutions to our customers. While a number of the largest global logistics companies have achieved certification, the fact that Rapiscan Systems is the first security screening equipment manufacturer to accomplish this milestone demonstrates our industry leadership and commitment to supply chain excellence."
About Rapiscan Systems
Rapiscan Systems, a division of OSI Systems, Inc. is a leading supplier of security inspection solutions utilizing X-ray and gamma-ray imaging, and advanced threat identification techniques such as neutron and diffraction analysis. The company's products are sold into four market segments; Baggage and Parcel Inspection, Cargo and Vehicle Inspection, Hold Baggage Screening and People Screening. The company has an installed base globally of more than 70,000 security and inspection systems. The Rapiscan Systems product line is manufactured at four locations and supported by a global support service network. The company was recognized for its market leadership with one of the United Kingdom's most prestigious distinctions The Queen's Awards for Enterprise and named by Frost & Sullivan as the 2008 North American Homeland Security Inspection and Screening Company of the Year. For more information on Rapiscan Systems, please visit http://www.rapiscansystems.com.
This press release contains forward-looking statements within the meaning of Section 27A of the Securities Act of 1933, as amended, and Section 21E of the Securities Exchange Act of 1934, as amended. Such statements include information regarding the Company's expectations, goals or intentions about the future, including the ISO certification achieved by its Malaysian manufacturing facility. The actual results may differ materially from those described in or implied by any forward-looking statement. Other important factors are set forth in the Securities and Exchange Commission filings OSI Systems, Inc. All forward-looking statements speak only as of the date made, and the company undertakes no obligation to update these forward-looking statements.
###