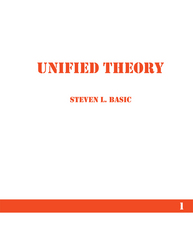 Pittsburgh, PA (Vocus) July 8, 2010
Steven L. Basic holds a master's of science degree in aerospace engineering from a reputable European university. He worked as a stress engineer for the British and American aerospace industries.
The author published four studies in the Indian Journal for Theoretical Physics concerning the distribution of gravitational acceleration and gravitational mass of planets throughout the solar system.
RoseDog Books is pleased to announce the publication of Unified Theory ($16.00) ISBN: 978-1-4349-9649-7, paperback. For more information, please contact RoseDog Books, at 701 Smithfield Street, Pittsburgh, PA 15222. To place a book order or to learn important information about shipping prices, tax, and our return policy, please call (800) 834-1803.
###