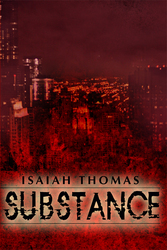 Pittsburgh, PA (Vocus) July 8, 2010
In the year 2030, demonic forces launched the first world raid, taking most humans as slaves, killing them or kidnapping the young.
As absence, the king of the underworld strives to take over the earth. The world crumbles before everyone's eyes. The sun casts a reddish hue on the earth, blood falls from the skies, and no place is safe for humans. The future looks grim. Or does it?
About the Author
Isaiah Thomas was born on December 19, 1982, and raised in Houston, Texas, where he still resides. In his very first publication, Substance, Thomas takes the reader on a twisted fantasy ride that completely stimulates the emotions to the core.
With his vivid imagination and interest in fantasy worlds and the unknown, he promises readers more hit titles in the near future.
RoseDog Books is pleased to announce the publication of Substance ($19.00) ISBN: 978-1-4349-9610-7, paperback. For more information, please contact RoseDog Books, at 701 Smithfield Street, Pittsburgh, PA 15222. To place a book order or to learn important information about shipping prices, tax, and our return policy, please call (800) 834-1803.
###