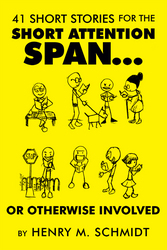 way, way over the rainbow
Pittsburgh, PA (Vocus) July 8, 2010
Henry M. Schmidt has written several hundred short stories that have swirled around in his head for the last forty years. Only with the use of a modern-day computer keyboard and an extensive memory is he able to share his dreams and nightmares now on paper with others.
He has decided not to submit to the embarrassment and possible humiliation of well-known publishing companies' reviews and spiraling costs so his work may not be perfect in the punctuation or spelling sense. The words come from him alone, and the ideas come from somewhere "way, way over the rainbow," pardon the pun.
Please understand that he has little to no experience in writing, and no one has come forward to praise, correct, or condemn his work. He puts it out for everyone to review, criticize, and correct as they must. Remember, however, these are his ideas, and he has neither stolen nor copied the works of others, with the slight exception of the occasional adaptation of certain songs that are stuck in the back of his head to stories that remind him of certain things you may come across and notice the reference to while reading.
About the Author
Henry Schmidt grew up in Chicago, Illinois, during World War II and lived in the glide path of Old Orchard Field, now O'Hare International Airport, for most of his young life. His fascination with military history and history stories was fueled at the early age of eight, when his mother began dropping him off at the town library, leaving him to walk home having read as much as his growing curiosity and arms could hold. Life stories are his passion; people studies are his reason to write. There are stories for everyone to study, and there are many more people who need to be brought to light in truth and in the writing of fiction. If you find someone who resembles a person you know or once knew, don't be surprised!
RoseDog Books is pleased to announce the publication of Short Stories for the Short Attention Span or Otherwise Involved ($20.00) ISBN: 978-1-4349-9681-7, paperback. For more information, please contact RoseDog Books, at 701 Smithfield Street, Pittsburgh, PA 15222. To place a book order or to learn important information about shipping prices, tax, and our return policy, please call (800) 834-1803.
###