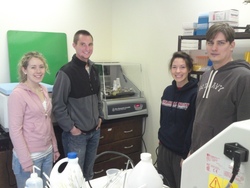 I gained many skills in the intercultural ministry classes at OKWU that have helped tremendously.
Bartlesville, OK (Vocus) July 8, 2010
Over the hundred years of education offered at Oklahoma Wesleyan University and its antecedent schools, literally hundreds of alumni have pursued careers in a variety of medical disciplines – from nurse or physical therapist to physician. Three of those graduates are examples of recent choices in various medical fields – Kenneth Argo who will be entering medical school in the fall, Dr. Brian Lee who recently opened his own Physical Therapy Practice and Dr. Larissa Sanger who is currently in residency for Family Medicine.
2010 graduate Kenneth Argo has been accepted into the OSU Doctor of Osteopathic Medicine program in Tulsa. His undergraduate degree from OKWU was in General Science. Kenneth was born and raised in Bartlesville. He is married to Julie who graduated from OKWU in 2004 as a Secondary Science Education major and who now teaches in the Bartlesville public schools. They have four children. After high school, Ken served in the U. S. Navy as a nuclear machinist on board the nuclear submarine USS Tucson. For the past several years, in addition to course work, he has been Cub master of First Wesleyan Church Scout Pack #32.
Dr. Brian Lee graduated Magna Cum Laude from OKWU in 1994 with a Bachelor of Science degree in Biology. He then attended Creighton University, receiving his Doctor of Physical Therapy degree in 1998, also Magna Cum Laude. He became a board certified specialist in orthopedics (certified by the American Board of Physical Therapy Specialties) in 2003. In 2006, he received certification from Manual Therapy Seminars of Colorado in high velocity low amplitude joint manipulation of the spine, pelvis and ribs. In 2007, he opened Lee Physical Therapy in Middleton, Idaho. Dr. Lee offers specialized, comprehensive physical therapy for the entire family with an emphasis on spine and sacral iliac pain, headaches, balance problems, pre- and post-operative orthopedic rehabilitation and sports injuries. Dr. Lee married his college sweetheart Dawna, and they have three children.
Dr. Larissa Sanger graduated from OKWU in 2006 with a major in Bio-Chemistry and a minor in intercultural ministry. She attended Sanford School of Medicine of the University of South Dakota. She is now completing her residency in family medicine in Billings, Montana. She and her husband recently spent 30 days in Zambia, where they met AIDS orphans, using this opportunity to combine experiences from their intercultural studies at OKWU with medicine and faith. Larissa relates that "since I was a child I wanted to travel and be a missionary doctor, so I wanted to cultivate the relational and cultural skills needed for international work. I gained many skills in the intercultural ministry classes at OKWU that have helped tremendously. They came in very handy during the semester I spent abroad in Central America and on my shorter trips to Kenya and, most recently, to Zambia."
Larissa expresses the sentiments of all three graduates in saying "I would encourage people to consider OWU when thinking about college. I got a good solid education that helped prepare me for medical school. I enjoyed the small science department that took time to get to know me individually and took interest in helping me succeed. I enjoyed my time at OWU."
In an effort to further enhance the preparation of students for medical professions, a vaccine lab has been installed at OKWU. With gifts from a local physician and a staff member of OKWU, students were presented with the opportunity to participate in a study of Escherichia coli K88. With the newly installed bacterial shaker, students this semester were charged with optimizing the growth of the highest number of cells with the most K88 present. In subsequent semesters they will move through the more than 100 steps necessary to produce, in pigs, a protective immune response to K88 resulting in both an antibody response and a cellular response. K88 is an appendage on Escherichia coli that attaches itself to the intestinal cells of pigs. OKWU's Dr. Doug Quick is the faculty member directing this study.
Oklahoma Wesleyan University is a four-year, Christian university of the liberal arts and sciences that is fully accredited by the North Central Association. OKWU also receives professional accreditation from the National Council for Accreditation of Teacher Education (NCATE), the Commission on Collegiate Nursing Education (CCNE), and the International Assembly of Collegiate Business Education (IACBE). It is a member of the Council of Christian Colleges and Universities as well as the Council of Independent Colleges and Universities and the Association of Oklahoma Independent Colleges and Universities.
###