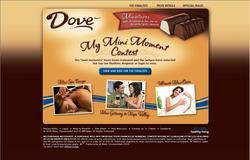 Judging by the number of entries we received, it's clear that our consumers are craving those moments – no matter how big or small – that give them a respite from the pressures of the day
Hackettstown, NJ (Vocus) July 8, 2010 —
Mars Chocolate North America announced there are 10 finalists in the DOVE® Ice Cream Miniatures "My Mini Moments" contest. From May 3 to June 7, nearly 800 consumers responded to DOVE® Ice Cream's call to share their favorite mini moment of escape for a chance to win an exciting mini-grand prize. Now through July 13, consumers have the chance to read all 10 entries at http://www.doveicecream.com/myminimoment and vote for who they think is most deserving of a much-needed moment of escape.
"Judging by the number of entries we received, it's clear that our consumers are craving those moments – no matter how big or small – that give them a respite from the pressures of the day," said Craig Hall, general manager, Mars Chocolate North America. "And now we're asking the rest of our consumers to vote for their favorite entry and help give someone a much needed mini escape."
Consumers were encouraged to submit a photo and short essay representative of their favorite mini escape from their day. A panel of judges narrowed down the entries to 10 deserving finalists. One grand prize winner will select one of the following prizes: mini-getaway to Napa Valley, spa services for a year, or a mini home makeover.
About DOVE® Ice Cream Miniatures: At 70 calories each, DOVE® Ice Cream Miniatures feature full indulgent ice cream wrapped with real Dove chocolate making them the perfect treat. Try the new decadent Café Collection which features Java Chip and Cappuccino flavors. To learn more about all of our delicious miniatures, visit doveicecream.com.
About Mars Chocolate North America:
Mars Chocolate North America is the North American chocolate operations of Mars, Incorporated. Mars, Incorporated is a private, family-owned company founded in 1911 and employing more than 65,000 associates at over 370 sites, including 135 factories, in 68 countries worldwide. Headquartered in McLean, Virginia, U.S.A., Mars, Incorporated is one of the world's largest food companies, generating global sales of more than $28 billion annually and operating in six business segments: Chocolate, Petcare, Wrigley Gum and Confections, Food, Drinks, and Symbioscience. These segments produce some of the world's leading brands: Chocolate – M&M'S®, SNICKERS®, DOVE®, GALAXY®, MARS®, MILKY WAY® and TWIX®; Petcare – PEDIGREE®, WHISKAS®, SHEBA®, CESAR®, NUTRO®, GREENIES®, and ROYAL CANIN®; Wrigley – ORBIT®, EXTRA®, STARBURST®, DOUBLEMINT® and SKITTLES®; Food – UNCLE BEN'S®, DOLMIO®, EBLY®, MASTERFOODS® and SEEDS OF CHANGE®; Drinks – KLIX® and FLAVIA®; Symbioscience – WISDOM PANEL™, SERAMIS®, CIRKUHEALTH™ and COCOAPRO®.
For more information, please visit http://www.mars.com.
###