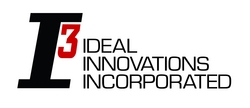 Amid the economic downturn, I-3 continued to thrive and sustain strong performance in 2009
Arlington, VA (Vocus) July 8, 2010
Ideal Innovations, Inc. (I-3) has just announced its inclusion in the Washington Business Journal's list of the 100 largest private companies in the DC area. I-3 was ranked as the 82nd largest private company, with over $76 million in 2009 revenue.
"Amid the economic downturn, I-3 continued to thrive and sustain strong performance in 2009," said Bob Kocher, founder and president of Ideal Innovations, Inc. "I-3 has maintained an uninterrupted track record of on-time and within-budget delivery and we anticipate our current contracts and new opportunities to drive revenue growth in 2010."
I-3 was launched in 1998 by Kocher in response to the government's need for specialized, responsive technology consulting in areas affecting the health and safety of deployed forces and US citizens. Specializing in high technology inventions, I-3 hires highly skilled subject matter experts to quickly provide innovative solutions to difficult technical and logistical problems.
The company is recognized in this week's issue (July 2-8) of the Washington Business Journal. The 100 companies featured on the list earned a total of $65.5 billion in 2009, with the greatest revenue coming from the manufacturing industry. Sixty-eight percent of the top private companies are headquartered in Virginia.
I-3 offers solutions in the areas of biometrics, forensics, improvised explosive device (IED) defeat, engineering services, database and software development, training and advanced armor systems. For more information about I-3, visit the website at http://www.idealinnovations.com.
###