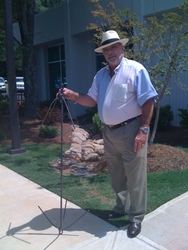 there's gotta be a way to protect the coastline
Atlanta, GA (PRWEB) July 8, 2010
Bill McMorris, a local Georgia man has come up with an $18 solution to protect the marshlands from the catastrophic Deepwater Horizon oil spill. A frequent visitor to the Louisiana coast, McMorris stayed up nights thinking "there's gotta be a way to protect the coastline."
McMorris welded together his "oil snatcher" device using $18 of materials (per device, excluding cost of hay).
The device works by penetrating the middle of a bale of hay and linking many of the devices together to form a barrier chain of hay bales that can be easily manipulated. Hay has already been proven as one of the best natural methods of absorbing oil. The device keeps the bales of hay intact and the "ring" at the top can be used to link multiple bales together. The hay, and thus the oil, can be easily moved – and removed – with the devices.
McMorris has run initial, successful tests on the device, has begun the patent process, and is currently attempting to contact the proper authorities.
###