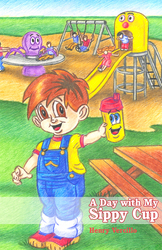 Pittsburgh, PA (Vocus) July 8, 2010
A Day with My Sippy Cup is about a young child who spends a fun-filled day hanging out with his mom, playing with his friends, laughing, and going on a trip to the library… all with his favorite sippy cup right by his side.
The child brings his sippy cup wherever he goes and shows it off with great pride! Even when getting dressed or sitting around, the child has his sippy cup with him because it's his best friend.
As every parent knows, a sippy cup and a child are like peanut butter and jelly - they both go hand in hand.
About the Author
Henry Vercillo was born in Syracuse, NY and now resides in Clay, NY. He has a Bachelor's Degree in Business Management from Niagara University.
Henry has a lot of ideas and poems he has put to paper, but the inspiration for the creation of A Day with My Sippy Cup undoubtedly came from his two children, Isabella and Henry II.
As his children grew from infants to toddlers, Henry was fascinated by their need to have a certain sippy cup to drink from. If they didn't have their favorite sippy cup, then they weren't drinking from any sippy cup! So when you see that a movie was based on a true story, the same certainly goes for A Day with My Sippy Cup.
RoseDog Books is pleased to announce the publication of A Day with My Sippy Cup ($20.00) ISBN: 978-1-4349-9550-6, paperback. For more information, please contact RoseDog Books, at 701 Smithfield Street, Pittsburgh, PA 15222. To place a book order or to learn important information about shipping prices, tax, and our return policy, please call (800) 834-1803.
###