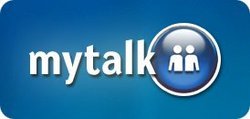 Reston, VA (PRWEB) July 8, 2010
Today Mytalk, Inc., a location based social networking company, was announced as one of the 20 finalists in the MobileBeat 2010 Startup Competition. Proving that it has what it takes to stand out in the crowd, Mytalk was picked by a panel of experts and advisors as one of the hottest companies in the mobile space. As a finalist Mytalk gets its chance to present its Service and App to over 450 influencers, investors, and press as they compete for the top spot and a coveted Tesla award.
Mytalk.mobi (Mytalk) is a location based "proximity" networking company that integrates location awareness and social networking. Headquartered in Reston, Virginia, Mytalk operates the http://www.Mytalk.mobi Portal and the Mytalk "location aware" mobile social networking application. Mytalk is a registered Trademark of Mytalk, Inc.
"Mytalk was developed as a simple, quick and safe way for individuals to use their mobile devices to identify and communicate with other Mytalk members who share similar interests based on their physical proximity to one another," said Michael Hodge, Chief Executive Officer, Mytalk. "We are honored to stand alongside some of the nation's most promising mobile startups as a finalist, and look forward to presenting our mobile, location based social networking service at MobileBeat 2010."
Hosted by VentureBeat, MobileBeat 2010 is taking place July 12-13 in San Francisco at The Palace Hotel. This year's theme is "The Year of the Superphone and Who Will Profit" with top executives from AT&T, Google, Facebook, Samsung and many others sharing their thoughts. MobileBeat is known as Silicon Valley's premier mobile event, bringing together 500 of the industry's top VCs, mobile execs, journalists and entrepreneurs. Many previous winners of the Startup Competition have gone on to become mobile juggernauts, including AdMob, Loopt and Touchnote.
About Mytalk
Based in Reston, VA, Mytalk.mobi (MyTalk™) is a location-based services aggregator which operates the mytalk.mobi LBS mobile portal and its principal consumer service the Mytalk proximity" social networking application. Emphasizing simplicity, speed, and safety, and using next generation location-based and mobile web network services, Mytalk allows individuals on their mobile device to identify, view the profiles of, and communicate with other Mytalk members with similar interests based upon their physical proximity. Mytalk is a registered trademark of Mytalk, Inc. For additional information on Mytalk or to join our community, visit http://www.mytalk.mobi/.
# # #