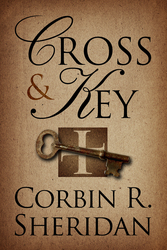 Pittsburgh, PA (Vocus) July 8, 2010
Cross and Key was started with one poem entitled 'The Battle in Darkness" which was essentially a short autobiography written in stanzas and rhymes. Eventually the poem was broken into four shorter, separate, more-detailed poems that expressed my feelings and perspective at specific points in time. Each poem afterward was relevant to some ordeal or epiphany in my life that, in order not to lose it, I recorded on paper or on my computer. Sometimes, I wrote one to cheer up a friend, and sometimes I wrote to cheer myself up. All of my poems are significant to me.
About the Author
Corbin Sheridan grew up in Coppell, Texas. He was introduced to poetry through the book Where the Sidewalk Ends by Shel Silverstein. At the age of ten, Corbin was reading and comprehending at an eleventh-grade level and developing his own collection of books. When he entered the seventh grade, he met Hayden Weaver, a remarkable friend who originally was to have poetry in this book. Corbin is now almost sixteen and attending Harmony High School in Big Sandy, Texas. Some of his favorite things to do are playing guitar and reading books he's already read.
RoseDog Books is pleased to announce the publication of Cross and Key ($10.00) ISBN: 978-1-4349-9683-1, paperback. For more information, please contact RoseDog Books, at 701 Smithfield Street, Pittsburgh, PA 15222. To place a book order or to learn important information about shipping prices, tax, and our return policy, please call (800) 834-1803.
###