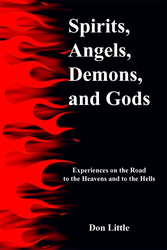 Pittsburgh, PA (Vocus) July 8, 2010
Spirits, Angels, Demons, and Gods: Experiences on the Road to the Heavens and to the Hells examines life and death by looking at the human soul's biography in a different way than any previous interpretations. It delves into the uncharted mysterious spiritual life that does not hinge upon any one biblical or secular interpretation, and it offers a diverse approach in that it taps into different dimensions and different parallel universes of the spiritual world.
The author describes the soul's possible or actual journey after its earthly-physical death, the experiences it encounters, the pathways the soul takes when disembodied, and the entities the soul meets between the spiritual and the material worlds after crossing, which could be the soul's loved ones, the soul's spirit guides, angels, demons, or many other spirit forms. Karma and reincarnation are discussed in depth, as well as the Spiritual Life Force and the Zen of Life, of which little has been written.
About the Author
Don Little received his bachelor of science degree in architecture, his master of architecture from the Catholic University of America, and his bachelor of arts degree in philosophy and psychology from the University of Maryland. He is an ordained nondenominational minister and has traveled extensively throughout the world.
RoseDog Books is pleased to announce the publication of Spirits, Angels, Demons, and Gods: Experiences on the Road to the Heavens and to the Hells ($39.00) ISBN: 978-1-4349-9766-1, paperback. For more information, please contact RoseDog Books, at 701 Smithfield Street, Pittsburgh, PA 15222. To place a book order or to learn important information about shipping prices, tax, and our return policy, please call (800) 834-1803.
###