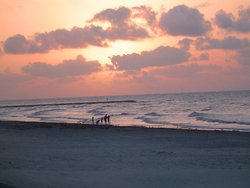 all 32 miles of Galveston's beaches are clean, safe, open and awaiting summer tourists.
Galveston, TX (Vocus) July 8, 2010
Mayor Joe Jaworski is encouraging tourism to Galveston throughout the summer season through a public service announcement distributed today. In spite of the recent collection of tar balls on Galveston, Mayor Jaworski wants visitors to know "all 32 miles of Galveston's beaches are clean, safe, open and awaiting summer tourists."
The small amount of tar balls collected from East Beach on Sunday, July 4 did test positive for connection to the Deepwater Horizon spill. However, officials speculate based on the condition of these tar balls, they may have arrived via ship ballast, not ocean currents.
These tar balls, and additional sporadic deposits more recently sighted, were immediately removed from the beaches. Officials remain cautiously hopeful this is an isolated incident. With the oil spill still hundreds of miles away, there is no loose oil or oil sheen on or near Galveston's shoreline.
During peak season, it is vital for Galveston's economy to continue with a successful summer. This year the Island is offering new special events and additional exhibits to its attractions to ensure guests are offered a variety of options for their summer vacation.
The public service announcement featuring Mayor Jaworski's message was created to support tourism on Galveston Island as well as to ensure guests that the situation is being closely monitored.
City of Galveston officials and the Galveston Island Convention & Visitors Bureau are working together to keep tourists and the community informed. Both entities are in close contact with the Coast Guard and state officials.
Any visitors with concerns are encouraged to contact the Galveston Island Convention & Visitors Bureau at 888-425-4753 or visit http://www.Galveston.com. View the PSA at http://www.galveston.com/b-roll_jaworksi/
###