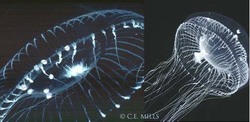 Quincy Bioscience continues to strengthen its position in developing this novel calcium-binding protein as a platform technology
Madison, Wis (Vocus) July 8, 2010
Quincy Bioscience, a research-based biotechnology company, announced the issuance of United States patent No.7,671,015. The patent covers the use of aequorin-containing compounds for the purpose of preventing and alleviating symptoms and disorders related to calcium imbalance.
"Quincy Bioscience continues to strengthen its position in developing this novel calcium-binding protein as a platform technology," said Mark Underwood, president of Quincy Bioscience. "The neuron's ability to manage calcium and maintain homeostasis is fundamental to proper function. Research has proven the cell's inability to regulate calcium is a key pathophysiological component in many different brain disorders, including Alzheimer's disease. Based on our ongoing research of aequorin in various health conditions and what we know about the role of calcium in the body, we expect aequorin to be a vital protein in many aspects of healthy aging."
Aequorin, which comes from a species of jellyfish called Aequorea victoria, is a calcium-binding protein. In humans calcium-binding proteins are utilized to maintain calcium balance which is critical to proper cell function. Aequorin has proven to be neuroprotective in pre-clinical studies performed at the University of Wisconsin-Milwaukee and has shown to be effective at improving aspects of cognition such as spatial working memory and executive function in human studies conducted by Quincy Bioscience.
About Quincy Bioscience
Quincy Bioscience is a biotechnology company based in Madison, Wisconsin. Quincy Bioscience is focused on the discovery, development and commercialization of novel compounds to fight the aging process. The company's products focus on restoring calcium balance related to neurodegenerative disorders and other destructive age-related mechanisms.
###