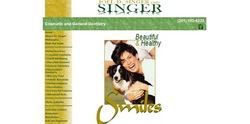 to achieve a flattering appearance and a lasting, confident smile.
Fort Lee, NJ (Vocus) July 8, 2010
At his Fort Lee, NJ cosmetic dentistry practice, Dr. Singer is using social media sites like Facebook and YouTube to create an online community to better serve his patients by providing information regarding his practice and the general and cosmetic dentistry treatments he offers. By embracing this popular form of communication, Dr. Singer has established another way to interact with his current and potential patients in a meaningful and dynamic way.
Offering procedures such as teeth whitening and porcelain dental veneers in Fort Lee, NJ, Dr. Singer says his desire is to provide exceptional care, in a comfortable environment, with individualized care for every patient at every visit, as he and his staff work "to achieve a flattering appearance and a lasting, confident smile." Dr. Singer further enhances this commitment to a whole-body approach for optimal oral and dental health by introducing his patients to the process of maintaining his practice's philosophy with the variety of resources available through his use of various online communities. Visitors of Dr. Singer's Facebook page will be able to connect with current patients to discuss their experiences with his practice, access before-and-after photos of procedures like dental implants and ZOOM teeth whitening in Fort Lee, NJ, and interact with the Singer practice by leaving questions and comments for the doctor and his staff.
In addition to addressing the questions and concerns posed by his patients, Dr. Singer can include posts to provide further information on the various cosmetic procedures provided by his practice, such as dental implants in Fort Lee, NJ, as well as links to important information outside of the online community like his practice's website and professional blog.
As Dr. Singer continues to expand his online presence into the social media realm, he says sites like Facebook and YouTube will continue to augment his philosophy concerning his practice in Fort Lee as he strives to achieve the personalized, long-term goals developed for every patient.
About Dr. Singer
After graduating from Fairleigh Dickinson College of Dental Medicine, Dr. Singer completed his post-graduate training in Advanced General Dentistry at Mount Sinai Medical Center, where he also served as Clinical Instructor. He established his private practice in 1988 while continuing his advanced dental training in cosmetic and restorative dentistry, including the completion of the Advanced Ultimate Aesthetic Program. Dr. Singer is a fellow of the Academy of General Dentistry, and is a member of the American Academy of Cosmetic Dentistry.
For more information, Dr. Singer is located at 327 Bridge Plaza North, Fort Lee, NJ 07024, and can be contacted at (201) 984-5328 and http://www.singerdentist.com
###