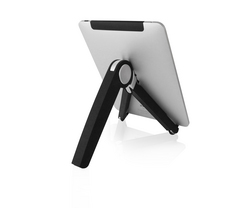 Our development roadmap is filled with new, innovative products that will enhance the user's experience with their Apple products
El Segundo, CA (PRWEB) July 8, 2010
KB Covers (http://www.kbcovers.com), a leader in keyboard covers for Apple computers, today announced the release of the KB Stand for the iPad. The KB Stand is a lightweight, portable, multi-position iPad stand, which allows users to set the correct angle for their iPad, achieving optimal ergonomics.
"As an iPad user myself," said Operations Manager, Eric Knight, "...I've tried numerous ways of keeping my iPad propped up on my desk, but nothing worked well…the other stands on the market weren't adjustable, nor portable and are very costly…our users were sharing the same challenges. We saw that there was a marketplace for a stand like ours"
Composed of 70% recyclable materials, the KB Stand for the iPad provides multiple angles to hold your iPad device. With the push of a single button, the KB Stand can fold up for easy storage or portability, plus its stylish good looks make it the perfect companion to the iPad. Because the legs of the KB Stand are extendable, it can also be used with a laptop or notebook computer, plus it comes with a stylish carrying bag.
"We're very excited to be continually expanding our lineup of Apple accessory and lifestyle products," said Greg Sad, Marketing Director of KB Covers. "Our development roadmap is filled with new, innovative products that will enhance the user's experience with their Apple products."
For more information about KB Stands for the iPad, KB Covers Keyboard Cover, or other available accessories, please visit http://www.kbcovers.com or http://www.kbstand.com. The KB Stand for the iPad is available for purchase online at the KB Covers store and in select music/audio resellers for $29.95..And, beginning today through September 30, 2010, any online customer can enter the code "KBSTAND10" at checkout to receive a 10 percent discount.
About KB Covers
KB Covers is dedicated to providing the finest quality keyboard covers for Apple/Mac desktop and laptop computers. Covers are made with stringent Quality Assurance methods, which help to ensure a tight fit, long-lasting durability, no paint cracking/chipping, a soft-feel, and ultimately a happy customer. They are designed to fit all Apple/Mac keyboard layouts around the world, including U.S. keyboard, European ISO keyboard, and Japanese JIS keyboard layouts, and new keyboard covers for popular applications are constantly being developed. To learn more about the KB Covers lineup, or to provide feedback and suggestions, please visit http://www.kbcovers.com, http://www.facebook.com/KBCovers or http://www.twitter.com/KBCovers .
###