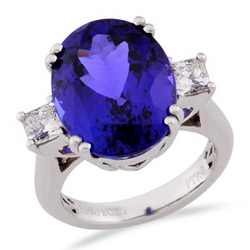 We are offering the lowest guaranteed prices on Tanzanite in the United States
Austin, TX (PRWEB) July 8, 2010
Liquidation Channel, a leading source of affordable rare and exotic gemstones, as well as jewelry made in Platinum, Silver, and Gold; announces it's launch on Dish Network, Channel 274 beginning July 7, 2010.
This launch premiers a spectacular event, "A Twenty-four hour Tanzanite Smack Down," on July 9, 2010, featuring Tanzanite jewelry and gemstones at outstanding values. President Gerald Tempton states, "We are offering the lowest guaranteed prices on Tanzanite in the United States. We can do this because our affiliate company is a sight holder of TanzaniteOne, which controls the largest legitimate source of Tanzanite in the world. We are truly bringing values directly from the source, eliminating middle men and their mark-ups."
Customers can shop at Liquidation Channel in a variety of ways, such as making purchases online at http://www.liquidationchannel.com and watching a Live Simulcast Stream directly from the website, or on DirecTV Channel 226, Dish Network Channel 274, and local cable channels throughout the United States. Customers can also buy via the website's online auctions, making it possible for customers to have complete control over what they pay for unique jewelry pieces.
"Whether you're looking for rings, bangles, brooches, earrings, necklaces or any other type of high-quality jewelry at an affordable price, at Liquidation Channel, we guarantee you'll find the lowest price. In fact, we are so confident that we offer a 'Lowest Price Guarantee.' If you find the same product advertised elsewhere, we'll pay you the difference, plus an additional 20%. It's just another way we stand behind our products and prices," said Tempton.
About Liquidation Channel: Liquidation Channel (http://www.liquidationchannel.com/) is a global leader in direct sales of colored stones, diamonds, precious metals, and a variety of luxury goods and innovative products. Through a precisely and fully integrated system, the Liquidation Channel specializes in delivering exceptional quality, exquisite designs, and outstanding value, while providing a low-price guarantee on each of its products. The store's unique jewelry is available online at LiquidationChannel.com and on DirecTV Channel 226, Dish Network Channel 274 and local cable channels.
# # #