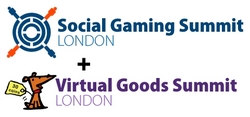 (PRWEB) July 12, 2010
Mediabistro.com (a division of WebMediaBrands Inc., Nasdaq: WEBM) announces keynote speakers at its Social Gaming Summit and Virtual Goods Summit, co-produced with Charles Hudson and specialist technology event producer Rising Media, to be held 11/12 November 2010 at Chelsea Football Club.
Kristian Segerstråle, VP and General Manager, Playfish is a successful games entrepreneur, Kristian brings strategic vision and leadership to his role as vice president and general manager of Playfish. He was chief executive officer and co-founder of Playfish leading up to the company's acquisition by electronic arts in November 2009.
Christian Hernandez Gallardo is Head of International Business Development at Facebook. He is tasked with increasing the use and engagement of the Facebook platform across international markets through the establishment of partnerships with media firms, technology companies, innovative start-ups and leading brands. Prior to Facebook, Christian held senior roles at Google where he led its commercial expansion into Eastern Europe and previously headed the business development efforts in EMEA for Google's mobile products (search, mobile ads, Android) and PC clients (Toolbar, Chrome). Christian has also worked at Microsoft where he was the Global Marketing Manager for Smartphone.
Other speakers represent Playdom, RockYou, PopCap Games, Big Fish Games, Conduit Labs, IMVU, ThinkEquity and more. Sponsors for the event include, gwallet, rockyou, Telx and SponsorPay.
For a complete list of speakers and the agenda, visit http://www.socialgamingsummit.com/uk
The exhibitor area will be a marketplace of organisations that offer products and services for all aspects of social gaming. Social Gaming Summit provides the critical element that can only be found at a live event -- face-to-face conversations that lead to business development and partnership opportunities.
###